Syrian opposition faction will not take part in Geneva peace talks - Brahimi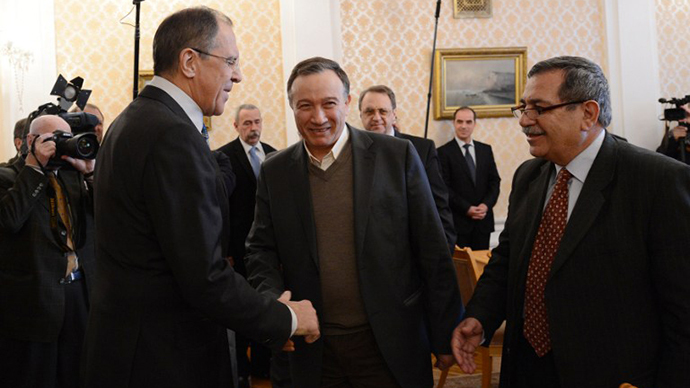 The Syrian National Coordination Committee, a faction in the domestic Syrian political opposition, has decided to boycott this month's peace conference in Switzerland, the UN envoy to Syria, Lakhdar Brahimi, said as cited by Reuters.
Brahimi said in a statement that he respected the organisation's decision not to join the opposition delegation to the talks but deeply regretted they would not be included.
Brahimi has yet to announce the make-up of the two delegations to the talks, which are set to begin on January 22.
The National Coordination Committee was the main first opposition force to be formed in Syria's three-year conflict.
It's composed mostly of secular activists and was initially calling for a thorough reform of the government, rather than for toppling it by military force.
Some of the more radical opposition factions see the NCC as a front for the Assad regime, rather than a genuine opposition force.
It was viewed by many as a major competitor of the Syrian National Coalition. It has its roots in modern-day Syria, as opposed to SNC's self-exile to Turkey, and has moderate views. As the conflict became increasingly violent, the role of the Committee has dwindled.
Meanwhile, the Turkey-based Syrian National Coalition (SNC) said it was not aware of any decisions made by the Committee, its spokesman Munzer Mahos told Interfax.
Head of the opposition National Coordination Committee for Democratic Change, Hassan Abdul Azim told RT Arabic, that the delegation representing his party was ready to participate in the peace conference, however there was no joint delegation representing all sides of the Syrian opposition.

"We are fully prepared for Geneva, but our decision is firm- we will not participate in the Geneva conference, if its conditions are unacceptable to us. I think that the postponement of the conference for two weeks is very important, so that the opposition could get the opportunity to meet, consult and agree on a single program and a single delegation."
The SNC has not yet decided whether it will go to the Geneva conference. It will announce its decision Friday, Mahos said.
The Geneva-2 peace conference in Swiss Montreux will be held under the aegis of the UN, and is co-sponsored by Russia and the US.
Preparations for the meeting are still underway, and it's still not clear who will be attending.
You can share this story on social media: