Half a dollar a day: The life of a Gaza tunnel-digger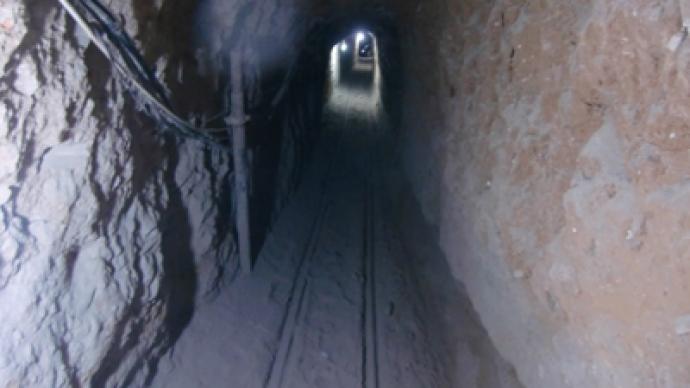 Did you know Gaza Strip has a Ministry of Tunnels? It's an important ministry too, as tunnels are a lifeline bringing food and consumer goods to Palestinians. Without them, it's doubtful that people here would survive the Israeli blockade.
Tunnellers toiling in arduous conditions are happy workers – they earn a staggering $10 a day.Their cheerfulness persists despite having to do back-breaking work, under the ground, with no chance to stand up straight, without fresh air, constantly running the risk of being crushed in a collapse or dying of suffocation.The tunnels are bombed during air raids, so their entrances are disguised. The sand from the pit is removed under tents to keep the place inconspicuous. Until last year, almost all food and other items, except for limited supplies from the UN, were delivered via underground passages.Rafat Mustafa Gabin digs tunnels from 6am till 7pm for $10 a day. The money is enough to keep him and his family of two wives and eight children. However having a job, a salary and a family is a rare stroke of luck by Gaza standards.The only problem is, Rafat lives in the north of Gaza and works in the south. It takes him a 90-minute ride on the bus to get to his place of work. But without the tunnels he's digging, Gaza would not have gas. Without gas, Rafat would not be able to travel to work by bus. There would be no bus either.It would be too much to travel back and forth every day, so he digs the tunnel for five days and goes home only at weekends. At home, the air is filled with the buzzing of drones. They do regular flybys every evening, on standby to send a missile to strike a moving target at any moment. In the twilight, every person is a target. Rafat's children grew up with this noise constantly in their ears.
Until recently, Rafat lived in a greenhouse consisting of four brick posts covered with plastic sheeting. They didn't have a floor, so they had to sleep on the ground."Why did you have a second wife if things were so bad?""The first one didn't have any children, so I married another woman. She had children, and so did the first one. Now I have eight of them," he explains.We visit the home of his parents – a tiny, dilapidated, and patched up building. Rafat's mother is 60. Recently she had her leg amputated because of diabetes. Rafat's father is 80. In 1970, he was arrested by the Israeli army and spent five years in jail. Repeated torture left him blind and almost deaf.Things got worse when doctors diagnosed a tumor. They told him to go to a hospital in the West Bank, do some tests and find out what kind of tumor it was and whether it could be removed. But so far, he has been unable to follow their instructions. He cannot travel on his own and both his sons are away at work. The thing is, it's a trip of several days through Egypt and Jordan, although it would take them no more than an hour's drive if the borders were open.Rafat's elder brother Mazhdi was tortured, too, during his 12-day captivity in the 22-day war of 2008-2009. His wife and children managed to get away, but he stayed behind with his parents who were unable to leave.
Their house is just two kilometers from the border. The Israeli troops came on the fourth day of the war and started shooting."We raised a white flag and shouted in Arabic that we are civilians and asked them to stop shooting. But they stormed the house. Men were undressed and taken to the border. The house was later reduced to ruins by fighter jets. Then came soldiers and bulldozers looking for jihadists. They gave my parents a few hours to leave."Majdi says the Israeli soldiers began to beat him up without any order from their officers."I am a farmer, a peaceful farmer. They stopped beating me only when they realized I wasn't a jihadist. Then they asked me where the jihadists were hiding."Majdi didn't have the slightest idea of where they were. Since the end of the war, his life has depended on aid from a Palestinian charity organization. His family would not have made it without it. Israel didn't send any aid or compensation – neither for torturing him, nor for destroying his house. The fields and the crops were destroyed by heavy machinery. The orchards have longs since been cut down because the Israeli army does not allow any trees so close to the border.Majdi works in the fields but it pays next to nothing. There's nowhere to deliver the groceries, and no money to buy more new seeds. He works for other farmers whose farms have suffered less damage.Rafat Mustafa Gabin's biggest joy is the residence built by the Arab Doctors Union. The new houses are located next door to his parents' house, and this is a truly generous gift. They have electricity, stone floors, windows and doors. The brothers cannot afford furniture, but this is the least of their concerns. Rafat's room has a thin mattress on the floor and a TV set, but it's enough to make him happy: "I can have rest here after a day's work. This is my hiding place." His wives and children occupy other rooms. They even have a kitchen with a small oven.
Incidentally, had it not been for the tunnels that Rafat digs, no house building projects would have been possible, as construction materials were also on the banned items list and cannot be delivered to the Gaza Strip under the rules of the blockade. Even today, neither cement nor metal frames are allowed in.We said goodbye as night fell and the drones moved in to watch the residential area."We have curfew every night. You cannot leave the house after 9 pm. No, this isn't the local law. It's the curfew imposed by Israel," says Majdi.All Gaza Strip families, and especially farmers, do their best to give their children education. But in this family, the boys could only have made it to the 9th grade. They live on the outer rim of a large refugee camp whose school has no secondary education program.Yet they are not entitled to any UN aid for refugees because they are citizens of the Gaza Strip. The 10 dollars that come in from tunnel-digging together with Majdi's small earnings is all the family has to support itself, including the sick parents and a crowd of children. There's no money in the land as it can neither be rented out nor developed because it's too close to the border.Thus, it comes down to less than one dollar per person per day in this family – and that's provided that Majdi secures some income too. If he doesn't, it's just 0.5 dollar per person. Farming brings much less profit than tunnel-digging around here.
Nadezhda Kevorkova, RT
You can share this story on social media: