Kids in the crosshairs: Photo of Palestinian children killed by IDF wins World Press Photo award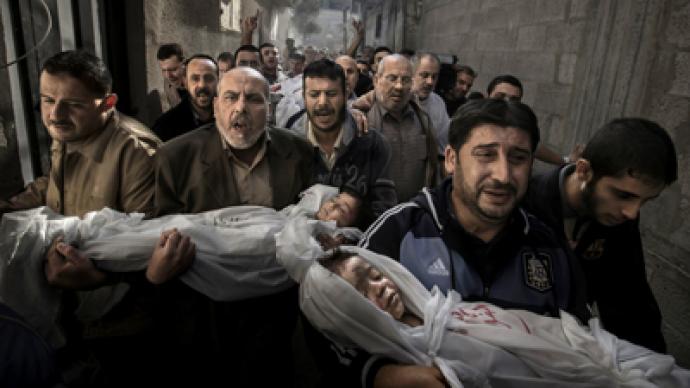 A picture of two Palestinian children killed in an Israeli airstrike has won the 2012 World Press Photo award. And as if to further prove the danger to the region's youth, an IDF sniper has posted a photo of a child in his rifle's scope to Instagram.
A procession of wailing men carrying two Palestinian children to their funeral, captured with the click of a camera, has won the 2012 World Press Photo.The photo was taken by the Swedish photographer Paul Hansen, working for the Dagens Nyheter newspaper.Taken in Gaza on November 20, 2012, the photo shows a group of men marching the dead bodies of a brother and sister, wrapped in white cloth, through the city. The piece portrays what became a common scene on the ground during Israel's eight-day military conquest, Operation Pillar of Defense, against Hamas in the Gaza Strip.One of photojournalism's most prestigious competitions, the World Press Photo awarded work this year in nine categories to 54 photographers of 32 nationalities."This prize is the highest honor you can get in the profession," Hansen said, "I'm very happy, but also very sad. The family lost two children and the mother is unconscious in a hospital."In all, 103,481 images were submitted for the contest by 5,666 photographers from 124 countries.Hansen was given a  €10,000 prize and an exhibition in April in Amsterdam.
'Constant target' – Instagram reveals
Pictures of Israelis targeting Palestinians have also been posted on Instagram in recent weeks. A snapshot posted at the end of January shows the back of a young man's head in the crosshairs of a rifle. The picture, posted to IDF sniper Mor Ostrovski's account along with others, does not show whether or not the individual on the image was shot down.But even so, the photo caused outrage on the Internet after making the rounds on Twitter and elsewhere. "It embodies the idea that Palestinian children are targets," wrote Palestinian rights activist Ali Abunimah on electronicintifada.net.
You can share this story on social media: