Gaza to be 'unlivable' by 2020 unless immediate action taken - UN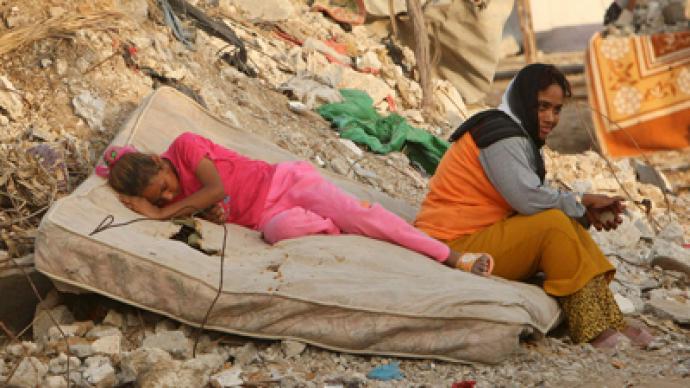 Gaza will no longer be "livable" by 2020 unless urgent measures are taken to improve the area's water supply, power, health and schooling, according to a UN report.
"Action needs to be taken right now on fundamental aspects of life: water sanitation, electricity, education, health and other aspects," UN humanitarian coordinator Maxwell Gaylard told journalists.Those services are "not keeping pace with the needs of the growing population," the report states.The document predicts the population of the Gaza Strip will increase from 1.6 million people today to 2.1 million people in 2020 – calling into question whether the region can actually sustain such growth. At the moment, the region is suffering from its worst-ever fuel shortage and power cuts, as well as unemployment levels of around 45 per cent. But while the population grows, these problems are predicted to only get worse.Gaza's lack of clean drinking water should be the first thing that is addressed, according to UNICEF Special Representative Jean Gough.The report estimates a 60 per cent increase in Gaza's future water needs, while urgent action is already needed to protect the area's existing water resources, Reuters says.At present, only a quarter of Gaza's waste water is treated. The rest, including raw sewage, goes straight into the Mediterranean Sea.According to a report released in June by Save the Children and Medical Aid for Palestinians, the levels of water contamination in Gaza are around ten times higher than what is deemed safe for consumption. However, many poor families have no choice but to drink the water.The coastal strip is extremely isolated due to an Israeli blockade which Tel Aviv refuses to lift, claiming it prevents arms from reaching Gaza's governing Hamas organization.And until the blockade is lifted, Gaza stands little to no chance of improving its situation, especially since it doesn't have an airport or a sea port."Despite their best efforts, the Palestinians in Gaza still need help. They are under blockade. They are under occupation and they need our help both politically and practically on the ground," Gaylard said.Gaza is 80 per cent aid dependent – relying on foreign funding and a tunnel economy which brings in food, construction materials, electronics, and cars from Egypt.But the current amount of outside help won't be enough to sustain the region's needs, according to Gaylard, who has called on international donors to increase their aid.By 2020, Gaza will need 440 more schools, 800 more hospital beds and over 1,000 additional doctors, according to Robert Turner, director of operations of the United Nations Relief and Works Agency (UNRWA). But it's not just Gaza's lack of accessibility to supplies that contributes to its less than promising future. Gaza's border with Israel is tense, and the area is frequently hit by Israeli air strikes – often leading to civilian deaths.Gaza will need to achieve both peace and security before the lives of its people can be improved, Gaylard said, and "it will certainly have to mean the end of blockade, the end of isolation and the end of conflict."But the goal of peace and security isn't likely to be achieved anytime soon. The Palestinian Authority currently refuses to negotiate with Israel unless the country agrees to a "freeze" on settlement building in the West Bank – something Tel Aviv will not do, even though the UN says the settlements go against international law.
You can share this story on social media: