Anonymous warns Israel: 'No one cuts internet on our watch!'
Published time: 15 Nov, 2012 15:34
Edited time: 15 Nov, 2012 19:34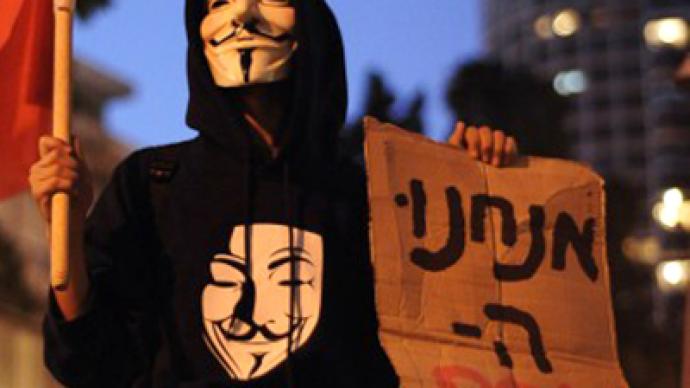 The hacktivist group Anonymous is angry at Israel, and not just for launching deadly airstrikes on Gaza. Members say the Israeli government "crossed a line in the sand" when it threatened to sever internet and other telecommunications in Gaza.
In a press statement published online, Anonymous issued a warning to the Israeli Defense Force (IDF) and the Israeli government, ordering them to not shut down the internet in the occupied territories and to cease and desist from their "terror upon the innocent people of Palestine."
In a tweet, the collective condemned Israel, saying it has broken 65 UN resolutions with no consequences. It then compared the situation to Iraq, which was "invaded, bombed, and destroyed" for breaking two resolutions.
Anonymous' online statement warned the Israeli government: "Like all the other evil governments that have faced our rage, you will not survive it unscathed."
The statement then turned into a message of support for the people of Gaza saying that "We will do everything in our power to hinder the evil forces of the IDF arrayed against you."
"Know that Anonymous stands with you in this fight. We will use all our resources to make certain you stay connected to the internet and remain able to transmit your experiences to the world," the statement said.
And it seems their words are being matched with actions.
Anonymous has put together a "Gaza Care Package," which contains instructions in Arabic and English to assist Palestinians in the event that the Israeli government threatens their internet connection.
The package also includes information on evading IDF surveillance, along with first aid information.
The collective encouraged Palestinians to download and share the package with others. Those behind the project have vowed to expand and improve the document in coming days.
"No matter how dark it may seem, no matter how alone and abandoned you may feel – know that tens of thousands of us in Anonymous are with you and working tirelessly around the clock to bring you every aid and assistance that we can," the statement said.
Members are taking a more direct approach too, by contacting Israeli forces directly.
A tweet from an Anonymous account to an IDF spokesperson warned, "It would be wise of you to expect us."
Anonymous has already hacked a number of Israeli websites, including advocate-israel.com. Visitors to the page see a scrolling banner which says the site was hacked by the "MexicanH Team."
A statement on the webpage says, "Stop bombing Gaza. Millions of Israelis and Palestinians are lying awake, exposed and terrified."