Leveling Gaza: Israel airstrikes to cost Gaza over $1.2 billion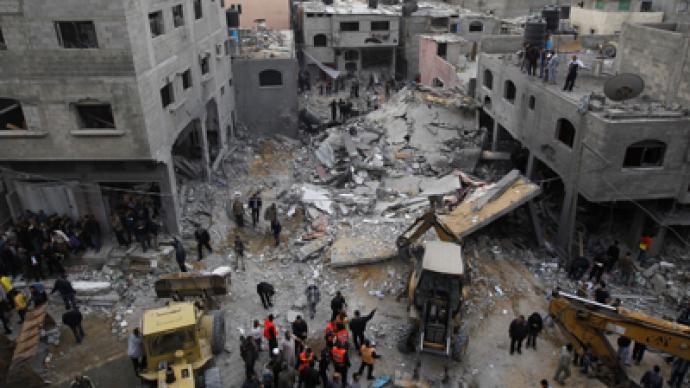 The eight-day Israeli assault on Gaza has resulted in at least $1.2 billion in economic damage, the territory's government says. Earlier, a report by the Palestinian Chamber of Commerce called for Gaza to be recognized as an economic disaster area.
Direct damage caused by the Israeli airstrikes will cost $545 million to repair, while indirect damages are estimated at some $700 million, Hamas spokesman Taher al-Nunu said Sunday."The total cost of damages caused by the Israeli aggression is $1.245 billion," al-Nunu said.The eight-day Israeli operation, officially called Pillar of Defense, completely destroyed 200 homes and damaged another 8,000. The attack also destroyed 42 non-residential buildings, including the Hamas government headquarters, three mosques and a health center, Nunu added. Israeli forces are also known to have targeted the offices of local and international media outlets.On Saturday, the Palestinian Chamber of Commerce reported that latest conflict with Israel caused $300 million in economic damage.
The report covered damages to the agricultural, health and social sectors. The occupied territory's agrarian segment suffered $120 million in damage while the eight-day halt to economic activities resulted in $40 million lost, the report suggested. The rest of the sum comes from destroyed buildings and infrastructure that was impaired by Israeli airstrikes, Xinhua reported.To deal with the disastrous economic consequences of the raid, the report calls for a lift of Israeli restrictions on Gaza in accordance with the truce that ended the operation on Wednesday.Besides economic damage, the Israeli response to Hamas' rocket attacks killed 168 Palestinians, most them civilians.Tel Aviv began striking Gaza last week with a declared goal of stopping rocket attacks on its territory from Hamas, the political party governing Gaza. Hamas' military had intensified its bombardment of Israeli territory, killing six Israelis, including five civilians, according to official reports. The Israeli Cabinet authorized a call-up of 75,000 reserve troops as the air assault on Gaza intensified, and amid growing speculation of a ground invasion into the territory.However, the ground operation was halted after an international diplomatic effort brokered by Egypt, resulting Wednesday in a ceasefire deal. Among many conditions of the truce, the agreement stipulates that Gaza's crossings should be opened to facilitate the movement of people and goods, and that residents' free movements should not be restricted, while "all Palestinian factions shall stop all hostilities from the Gaza Strip against Israel, including rocket attacks and all attacks along the border."
You can share this story on social media: