Innocent victims: Children among dozens killed by Israeli airstrikes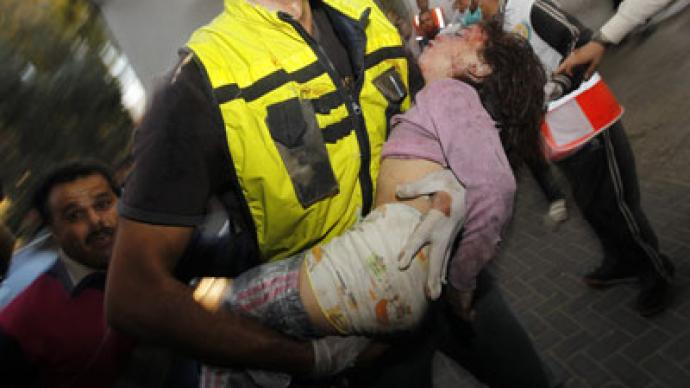 Israeli airstrikes killed seven children and wounded many others in Gaza on Sunday. At least 13 children have been killed since Operation Pillar of Defense began. That number could potentially rise if Israel launches a ground operation on Gaza.
An Israeli missile flattened a three-story house in Gaza City, killing at least 9 civilians – including four children.
Eighteen-month-old Iyyad Abu Khusa was killed in a strike east of the Bureij refugee camp in central Gaza. His brothers, aged four and five, were seriously wounded in the raid, Health Ministry spokesman Ashraf al-Qudra told AFP.
Hours earlier, two toddlers were killed by strikes in the towns of Beit Hanun and Beit Lahiya. The children were identified as three-year-old Tamer Abu Saeyfan and his one-year-old sister, Jumana Abu Saeyfan.

Thirteen-year-old Tasneem Nahal was also among the children killed. She died of massive shrapnel wounds to the head after an Israeli strike hit a refugee camp in Gaza City. Several women could be heard screaming and weeping after she was killed, AFP reported. The tragic deaths of Gazan children killed in Israeli air strikes have angered the Arab and Islamic world.Turkish Prime Minister Recep Tayyip Erdogan said that sooner or later, Israel would be held accountable for the "massacre." The child death toll is expected to rise unless the two sides enter negotiations soon."The Israeli military is prepared to significantly expand the operation. The soldiers are ready for any activity that could take place…the Israel Defense Forces have attacked more than 1,000 terror targets in the Gaza Strip and it continues its operation in this very moment," Israeli Prime Minister Benjamin Netanyahu said at a weekly cabinet meeting.
On Friday, Israel called up 75,000 army reservists to prepare for a possible ground operation against Gaza."We must blow Gaza back to the Middle Ages, destroying all the infrastructure including roads and water," Israeli Interior Minister Eli Yishai said, as quoted by Yeshiva World News.The chief of the Israeli Defense Forces (IDF) has ordered the increase of sorties against militants in Gaza.However, many world leaders believe a ceasefire could be foreseeable in the near future. French Foreign Minister Laurent Fabius is set to hold talks with Israeli authorities and Palestinian Authority president Mahmoud Abbas during a one-day trip to the region. He is expected "to call on all the parties to stop the escalation and offer France's help to reach an immediate ceasefire," his ministry said in a statement.German Foreign Minister Guido Westerwelle is expected to arrive in Israel on Monday, to attempt to advance a ceasefire. Egyptian President Mohamed Morsi is pushing for a truce, too. "There are some indications that there could be a ceasefire soon…but there are no guarantees," he said in a statement. An Israeli envoy held talks with Egyptian officials in Cairo earlier Sunday.UN Secretary-General Ban Ki-moon will meet with Morsi and other officials in Egypt on Monday, according to the Egyptian Foreign Ministry. The Arab League has called an emergency meeting on the conflict in Cairo. Hamas chief Khaled Meshaal in Cairo is in Egypt for the talks, which aren't expected to take place before Monday.
You can share this story on social media: