'Once-in-a-century storm' turns Gaza, Israel into 'disaster area'
A UN agency has designated Gaza a "disaster area," after the Levant's strongest storm in decades forced 5,000 Palestinians to evacuate their homes. Israel has also suffered weather-related fatalities and blackouts.
"Large swathes of northern Gaza are a disaster area with water as far as the eye can see,"
United Nations Relief Works Agency (UNRWA) said in a statement.
Storm Alexa has been causing torrential downpours and heavy snowfall across Syria, Israel, Palestine, and even the deserts of the Sinai Peninsula for the past four days. Israeli meteorologists have deemed the storm the region's worst snowfall since 1879.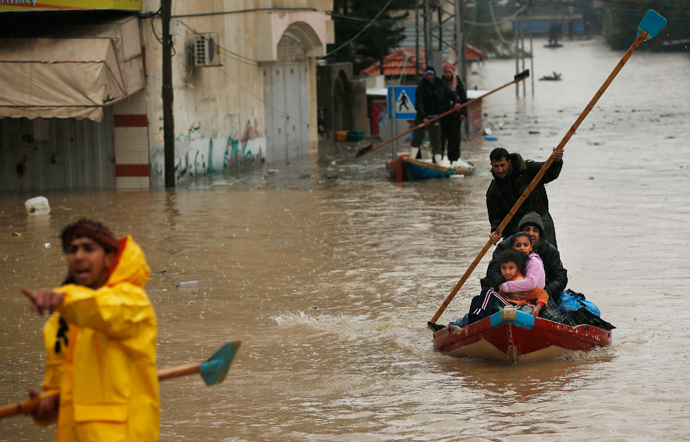 Gaza, which already suffers from poor infrastructure and scheduled blackouts due to a fuel shortage, has been particularly hard hit by floods, exacerbated by poor drainage and shoddy building construction.
UNRWA says areas around Jebaliya, a large refugee camp in the north of the territory, "have become a massive lake with two-meter-high waters engulfing homes and stranding thousands."
The Red Cross has been giving out aid packages, while UNRWA is distributing fuel supplies to those suffering from the floods. Earlier, Israel opened its tightly-controlled border to let in heating fuel and water pumps.
Emergency workers have paddled rafts between houses to offer supplies, and to evacuate the weak and elderly, who have been placed in nearby schools and other public buildings.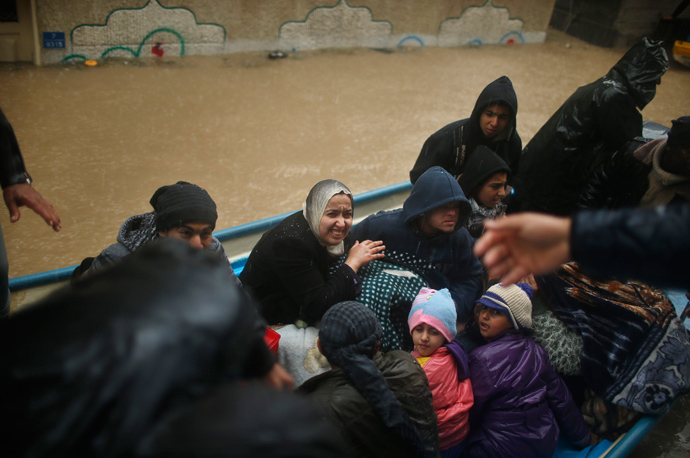 At least 100 people have suffered injuries during the storm, mostly in car accidents and as a result of debris falling from collapsing houses.
Across the border, some parts of Israel have seen snow accumulate to over three feet.
Prime Minister Benjamin Netanyahu called the cataclysm a "once-in-a-century storm" during a parliamentary debate on the government's response to the freak weather.
More than 50,000 households - predominantly in Jerusalem – have been left without electricity after more than 600 power lines collapsed, Haaretz reported.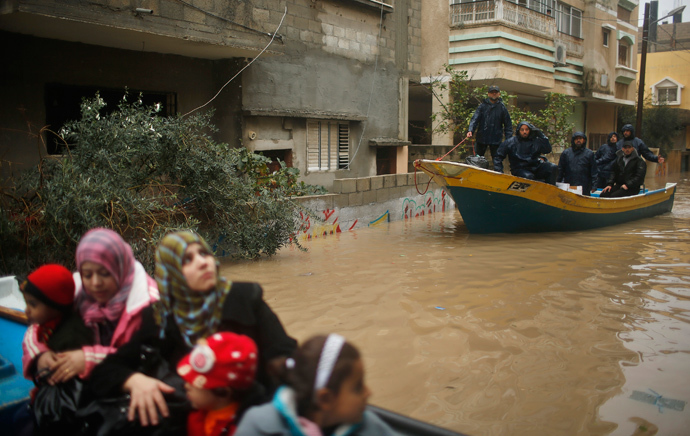 A man died on Saturday evening after slipping off his roof while trying to fix a leak. Police have located the bodies of two young men whose 4 x 4 was caught in flash flood in the desert earlier this week.
The Ayalon Highway out of Tel Aviv is the latest to be sealed off due to dangerous flooding. Several other motorways have been closed for days.
On working public roads, traffic jams have reached up to ten hours, and police say over 200 drivers had to be rescued across the country overnight.
The Israeli Defence Force has used its bulldozers to clear the roads, and the government provided trains on Saturday, lifting a ban on public transport in force during the Jewish day of worship.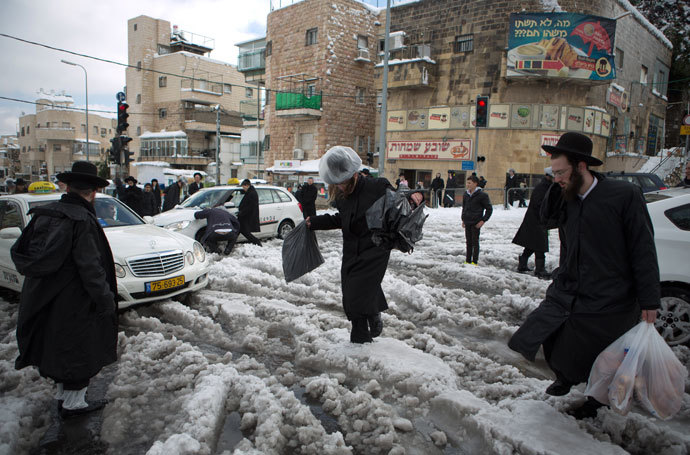 You can share this story on social media: