West Bank's Fatah party stages first mass rally in Gaza in 5 years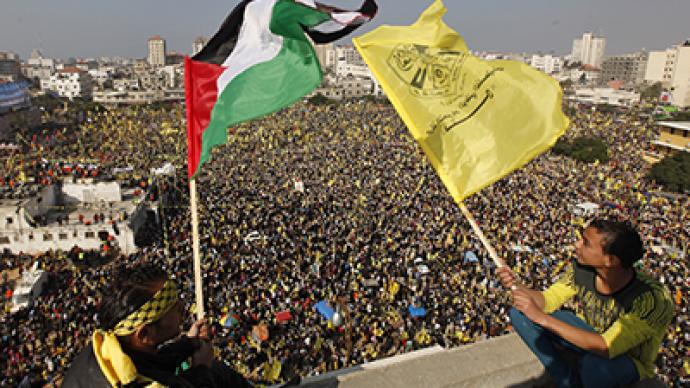 Hundreds of thousands of supporters of the West Bank's Fatah party have staged a rally in Gaza to mark the organization's 48th anniversary. It's the first mass Fatah gathering to be held in Gaza since Hamas ousted the party's forces five years ago.
The public celebrations are widely seen as an attempt by the two sides to reconcile after years of tension and mistrust.Scores of supporters camped out in downtown Gaza square overnight to ensure they had a spot for the festivities. Others arrived in droves, cruising nearby streets and waving Fatah and Palestinian flags.  Fatah officials claimed that 500,000 supporters turned out, while Hamas put the number at 200,000. The focal point of the event was a speech by Palestinian President Mahmoud Abbas from his West Bank headquarters in Ramallah, broadcast to the crowd on giant screens."There is no substitute for national unity," Abbas said in his address.The rally comes just one month after Abbas, who is a member of the Fatah party, allowed Hamas supporters to celebrate their party's founding by also holding a rally in the West Bank.  According to Hamas, 500,000 supporters turned out for the event.The public celebrations are believed to be a step toward ensuring peace between the two parties. "Today forms a historical intersection in Palestinian history because what was yesterday is not going to be tomorrow. Tomorrow will look different. Hamas and Fatah will have to look each other in the eye," political analyst Elias Zananiri told RT
Hamas is also making an effort to mend relations with its longtime foe. During a visit to Gaza last month, Hamas leader Khaled Meshaal urged "reconciliation and national unity among the Palestinian ranks.""Palestine is for all of us, we are partners in this nation. Hamas cannot do without Fatah or Fatah without Hamas, or any movement," Meshaal said in a speech.Participants at Friday's rally cheered on their party and its leadership, holding aloft pro-Fatah banners and pictures of President Abbas."The message today is that Fatah cannot be wiped out," Amal Hamad, a member of the group's ruling body, told Reuters. "Fatah lives, no-one can exclude it and it seeks to end the division."Party members said the rally preserved their sense of freedom, as they enjoyed their right to hold a public rally for the first time in five years."We feel like birds freed from our cage today," party member Fadwa Taleb told AP. "We are happy and feel powerful again."Fatah lost a parliamentary election to Hamas in 2006. Relations between the two parties collapsed one year later when Abbas ordered the dissolution of the Hamas-led unity government in Gaza. Hamas responded by ousting Fatah forces from the Gaza strip and setting up a rival government there.Under Egyptian mediation, the two parties reached a unity agreement in April 2011, although it has not yet been implemented.
You can share this story on social media: