Deaf in Gaza: Learning to make themselves heard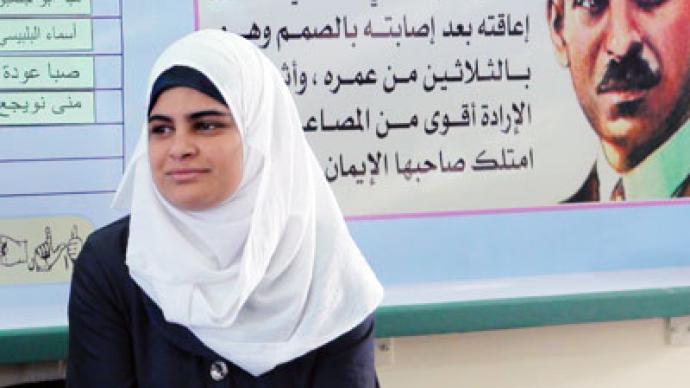 Even the daily routine of going to school is associated with breaking the blockade in Gaza. Education is seen as vital, and education for the deaf is no exception. Thus, the building of the Strip's first secondary school for the deaf is a true milestone.
RT's Nadezhda Kevorkova went to the Strip, where the construction of the school for the deaf started a year ago. Though the building is still unfinished, classes are already running for 150 young women and 50 young men. They study in separate buildings. Another school has been built nearby, so the children here do not feel isolated."Most students are from very poor families. We have a lot of children like this; it comes from living in poverty, under bombardment, with a lack of medicine. Children lose their hearing as a result of untreated illnesses. These children, especially the girls, find themselves written off. There's no education or jobs for them. But our school provides training, and an opportunity for social contacts and life prospects. Just look at their faces!"Principal Alihassan abu Jehad admires his pupils as they chat using sign language, accompanied by sounds from the construction site.
"There was a school for disabled children in the Strip, 1st through 9th grades. After graduating, the kids were doomed to stay at home. Even when they managed to find a job, their salary would be half that of others. Their lives were filled with suffering. Many were in despair. They couldn't go to university. Now we have a high school, which means our children can get further education."Those who are too old for school but still want a diploma, opt for out-of-school classes, the principal tells me."Before the blockade, young people who were deaf could go abroad and finish their education there. Girls could stay with relatives in Arab countries – Islamic families are forbidden to send their daughters to boarding school. But the blockade deprived them of this opportunity. Now many are trying to make up for lost time."
The school is named after the famous Arab poet Mustafa Sadik el-Rafii. At 30, Rafii lost his hearing and then, after contracting fever, his voice. His story has inspired thousands of hard-of-hearing men and women.Gada Zorab from Rafah:"We had a very difficult time. We saw death with our own eyes, with children and the elderly dying. Many were very ill. Many died for the liberation of Palestine. The invaders destroyed a lot of families' homes. Many families lost their children. We're a very weak state; therefore Israel looks down on us as people of a lower class, who they can treat however they want. I want to address our friend, Russia. We really respect the people of Russia, and wish them all the best. We really hope that you'll support us."
Gada dreams of going to university in the United Arab Emirates and becoming a teacher for children who are deaf. Zakhel wants to train as an English teacher in the US, then come back home to work. Mariam Jaddah would like to study in Turkey. Almaza Jebbah is planning to attend university in Russia, while Heba wants to go to Germany. The school's principal thinks they all have a chance: they have great scores and a lot of determination."We have a lot of girls from Rafah. They spend an hour and a half getting to school by bus every day. But that's not too bad compared to when the Israeli settlements still existed in Gaza. Then, they had to stand for days at the checkpoints. They were shot at, to kill. And now it's just an hour and a half's ride', the principal explains to me. 'It's probably difficult for a foreigner to understand why our school is one of the most important projects in the Strip. This is a real breaking of the blockade. The Al-Aqsa University in Gaza graduated 14 teachers for deaf people in 2000. But during the blockade, this class was cancelled. And now it's reopened again. Our students are doing a good job; they're really willing to learn, and they're making good academic progress. There's a special program for teaching English. They all plan to get further education, to get married, and have children."
Nadezhda Kevorkova, RT
You can share this story on social media: