Swedish gay rights athlete repaints rainbow fingernails after officials' warning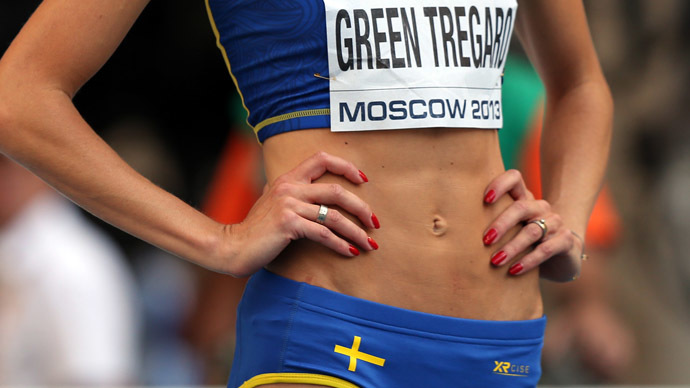 Swedish high jumper Emma Green Tregaro, who painted her fingernails in rainbow colors to support gay rights at the Moscow World Athletics Championships, has switched to red nail polish after a warning from the track and field governing body, the IAAF.
Swedish officials told Green Tregaro that her rainbow gesture could be a violation of the competition's regulations. 
Anders Albertsson, general secretary of the Swedish athletics federation, said the organization spoke to the International Association of Athletics Federations (IAAF) about the issue, which said that Green Tregaro's action was "by definition" a "breach of the regulations."
"The code of conduct clearly states the rules do not allow any commercial or political statements during the competition," he told journalists before Saturday's high jump finals, as quoted by AFP. 
The official added that he had not put pressure on Green Tregaro to change the color of her fingernails, but "understood from Swedish media that her nails are now red."
The athlete's rainbow fingernails attracted international attention as a silent protest against Russia's 'anti-gay propaganda law,' which aims to protect children from "harmful information" and bans the promotion of homosexual relations to minors. However, critics argue that the law violates the rights of the LGBT community and may spark homophobia in the country.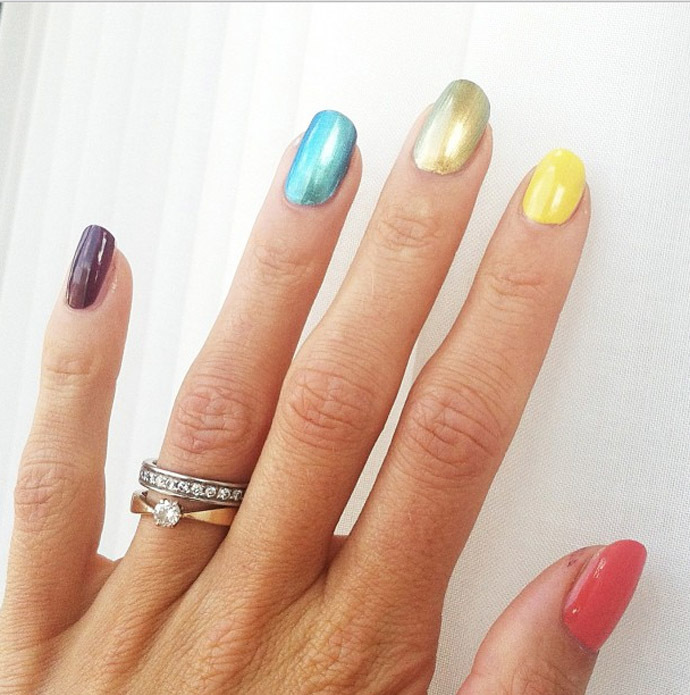 Twenty-eight-year-old Green Tregaro, who placed fifth at Moscow's Luzhniki Stadium, said she was "surprised by the big reaction" but happy because it has "mostly been very positive," reported AP. 
She added that "it was harder to not paint [the fingernails] in the rainbow than it was to choose to paint them."
Talking to Swedish media, the high jumper explained that in her view, "love for another person is the most beautiful thing in the world, and that's what I want to show, no matter the gender or whatever." However, after Swedish athletics officials asked her to "please respect the rules" and change the color of her nails, Green Tregaro decided "to paint them red instead, for love."
Along with Green Tregaro, Swedish athlete Moa Hjelmer also displayed her support for gay rights by sporting rainbow colored fingernails while running the women's 200-meter heat at the Moscow World Athletics Championships.
The athletes' cause would probably have received less publicity if it wasn't for criticism from Russian pole vault star Yelena Isinbayeva, who slammed the Swedes' actions and backed the 'gay propaganda' law.
The 31-year-old athlete stated that the protest was disrespectful to Russia and its people. 
"Maybe we are different than European people and people from different lands. We have our law which everyone has to respect," Isinbayeva said at an English-language press conference. "When we go to different countries, we try to follow their rules. We are not trying to set our rules over there."
Isinbayeva went on to say that heterosexual relations are historically considered "normal and standard" in Russia and that "if we really allow [gays] to promote and do all this stuff in the streets," it would cause problems.
Later, the athletics star - who came under fire from western media over her comments - stated that she was misunderstood since English is "not her first language." Isinbayeva underlined that she was opposed to "any discrimination against gay people."
You can share this story on social media: