'Gas prices not approved by Yushchenko'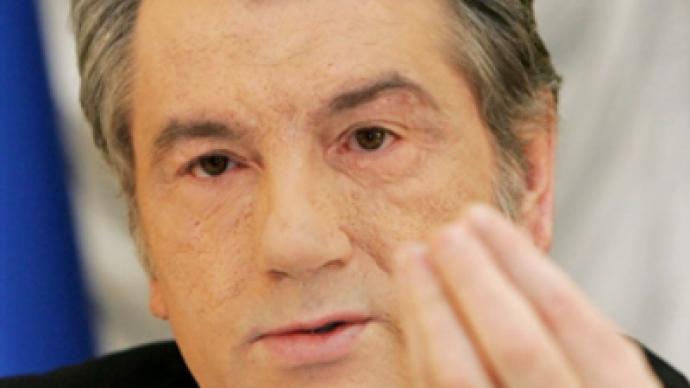 Ukrainian President Viktor Yushchenko has failed to endorse a deal on either the price or transit tariffs for Russian gas, the President's official envoy for energy security said.
Speaking at a media conference, Bogdan Sokolovsky said Yushchenko hasn't endorsed any numbers contained in the contracts signed by Russian Prime Minister Vladimir Putin and his Ukrainian counterpart Yulia Tymoshenko on January 19. Those figures include the price Kiev pays for Russian gas and the price Moscow pays Ukraine for pumping its gas to Europe.
"There hasn't been such an agreement. Same as it hasn't been agreed to work without a transition period," he said.
Meanwhile, Tymoshenko confirmed on Wednesday that she had signed directives authorizing the head of Ukraine's Naftogaz, Oleg Dubina, to hold talks with Russia's energy company Gazprom.
"Issuing directives is in the prime minister's authority," she said, adding that no governmental voting is needed in such cases.
Speaking at a Cabinet session on Wednesday, she blamed RosUkrEnergo company, "politicians and high-ranking officials in Ukraine" for the failure of gas talks with Russia at the end of 2008.
Ukraine's Prime Minister said that when Kiev and Moscow discussed the gas price of $250 per 1,000 cubic meters, RosUkrEnergo had offered Gazprom $280 per 1,000 cubic meters, a move she described as "destructive".

"What I want to say is that Ukraine's corruption at the highest political level effectively ruined the December 30-31 talks with the participation of RosUkrEnergo. It all led to an unpleasant scandal, which reached the EU," she said.
However, now, according to the premier, the various corrupt schemes have been eliminated.
In another move against corrupt officials, Yulia Tymoshenko Bloc has announced it's going to propose forming a parliamentary commission to investigate the circumstances of "outside interference" in the gas talks, said a member of the bloc Andrey Kozhemyakin.
The contract signed in Moscow on Monday put an end to a weeks' long gas dispute between the two countries, which left millions without heat.
Under the terms of the agreement, Ukraine will pay $360 per 1,000 cubic metres in the first quarter of 2009, $US270 – in the second, $219 – in the third, and $162 – in the fourth quarter. The average price in 2008 will account for $228 per 1,000 cubic metres as opposed to $US179.50 in 2008.
You can share this story on social media: