Gaddafi winning ground war, coalition battles on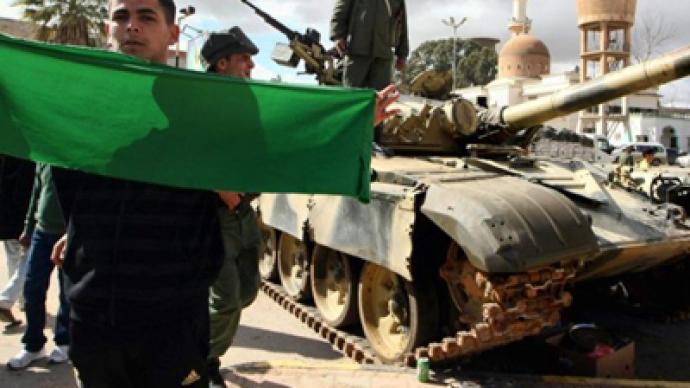 Coalition air strikes make no difference as Gaddafi's forces push rebels further away from Tripoli and prepare to crush the defensive position – the city of Ajdabiya – on their way to the rebels' last stronghold Benghazi.
This is probably why US President Barack Obama has reportedly signed secret orders allowing the CIA to carry out covert missions inside Libya.Teams of operatives are thought to have been gathering intelligence for military air strikes and setting up links with rebels.Despite coalition forces continuing to bomb targets in Libya – there have been air strikes on military bases in the eastern and south-eastern suburbs of Tripoli recently – the frontline seems to have been pushed further back.
Troops loyal to Gaddafi are now in the city of Ajdabiya, just 70 kilometers west of the rebels' stronghold Benghazi.The coalition forces are bombing pro-Gaddafi troops near Ajdabiya which suggests the coalition fears Gaddafi forces are closing in on the town and that they do not want Ajdabiya to fall.The terrain that rebels are fighting on is against them. The battlefield near the city is essentially one highway in the desert, it is very hard for them to get supplies and certainly at this stage it does seem that the coalition air strikes are making little difference.On the ground, Gaddafi is winning the war but he has to withstand a psychological blow – his foreign minister and close associate Moussa Koussa has defected and is currently in discussions with British intelligence. He arrived in the UK by private jet from Tunisia on Wednesday. According to the UK's Guardian newspaper, Mustafa Gheriani, a spokesman for the revolutionary council, said that the rebels want Moussa Koussa to stand trial for murder and crimes against humanity once Gaddafi's regime is toppled. "He is a very, very major person to defect. Gaddafi trusted him more than some of his sons. Now Gaddafi doesn't even trust his own people anymore," Gheriani said as quoted by The Guardian. Gheriani believes that Koussa is one of those responsible for assassinating opposition figures in exile, murderous internal repression, torture and the Lockerbie plane bombing.Meanwhile, British Foreign Secretary William Hague said on Thursday that Moussa Koussa fleeing has exposed the forlorn state of Gadhafi's regime. He also officially announced that the former Libyan minister is not being offered immunity."Moussa Koussa is not being offered any immunity from British or international justice. He is voluntarily talking to British officials at the moment, including members of the British embassy in Tripoli, which is of course now based in London, and our ambassador Richard Northern and, as I say, we will release further details in due course." Hague stated. "He travelled here under his own freewill. He said that he is resigning his post."Hague also took the opportunity to urge other Gaddafi government members to abandon their leader in the name of a brighter future for the country saying, "We encourage those around Gaddafi to abandon him and embrace the better future for Libya that allows political transition and real reform, which meets the aspirations of the Libyan people."Some may have even embraced Hague's encouragement. Later on Thursday, the Al Arabiya television station reported that the chief of Libyan external intelligence, Abu-Zayd Durdah, has fled to Tunisia, but there has been no independent confirmation of the report.Libyan government spokesperson Moussa Ibrahim at first refused to confirm Moussa Kussa's defection. Instead he answered with a vague, "We have millions of people leading this struggle, and this is the fact. So if anyone feels tired, feels sick, or exhausted, and they want to take a rest, it just happens." However, later on Thursday he did confirm Koussa's defection, saying: "Mr. Moussa Koussa asked for sick leave, because he was exhausted physically and he has diabetes and high blood pressure. The government gave him permission to leave the country to look after himself, because he was in bad need of intensive medical care, and since he arrived in Tunisia the day after, we have had any communication with him. We understand now that he resigned from his position. That's his personal decision."Despite having confirmed Koussa's defection, Moussa Ibrahim refuted reports of other Libyan officials, Abu-Zayd Durdah in particular, fleeing the country. He added that reports about Libya's parliament speaker having escaped to Tunisia are also incorrect. Libya's deputy UN ambassador told the Associated Press on Thursday that most high- ranking Gaddafi officials are trying to defect but are under tight security surveillance and are having difficulty leaving the country. He added that another Libyan official, Ali Abdessalam Treki, a former foreign minister and permanent representative to the UN, announced his defection in Cairo on Thursday.Moussa Koussa has been Gaddafi's most trusted right-hand man, and he has been described as a shrewd operator by the international community. The question now is what does Moussa Koussa know that has caused him to defect and just how important is that information for the coalition partners?Koussa has been Libya's foreign minister since 2009 and before that he headed Libyan intelligence for some 15 years. The opposition nicknamed him "the man of death". He is a big embarrassment for the UK which has previously accused him of funding terrorism and expelled him in 1980, said Mark Almond, a visiting Professor in International Relations at Bilkent University based in Ankara, Turkey.If a person like the former intelligence chief Moussa Koussa now seeks asylum in the UK, that means that "we see also a kind of intelligence uprising [in Libya] as well as a popular one."
Nabila Ramdani, a journalist specializing in the Arab world, says that Moussa Koussa's defection could be a direct consequence of Prime Minister David Cameron's call for Gaddafi supporters to defect during the NATO summit last Tuesday."Prime Minister Cameron told Gaddafi supporters that if they did not defect, they will be taken to the International Court and face trials for war crimes," she said. "I think it was a very short-term strategy from the British government in an attempt to lead the Gaddafi regime to collapse. But I think that in the long term it is very unlikely that the UK will be giving political asylum to someone who very much seems to have been a controlling force behind the Lockerbie [bombing]."
As for reports that the US is considering arming the Libyan rebels, it is now a legal question as to whether or not UN Resolution 1973 actually allows it.The rebels have shown themselves as lacking good leadership and seem loosely organized, without the knowledge to use the weapons that they do have.They have surface-to-air missiles and they have used them, but only managed to shoot down one of their own aircraft. So the question is now being asked: if the international community does have plans to arm these people, will the weapons actually be falling into the hands of people capable of using them?NATO has taken full command of all military operations in Libya. Many believe, not only in Tripoli but within the international community, that the scenario in Libya differs completely from the Arab revolution the world has seen in Tunisia and Egypt.Ironically, Tripoli now says it might be a good thing that the discussion on the Libyan conflict is now on the international agenda because it forces the international community to find out who is among the ranks of the anti-Gaddafi coalition.The US has admitted that Al-Qaeda and Hezbollah are present in Libya – within the rebel groups – something that the official Tripoli has been saying from the very beginning, that the revolt has been inspired by forces from outside of the country. That throws into doubt the legitimacy of the whole operation of the international coalition.
You can share this story on social media: