Signs Gaddafi regime crumbling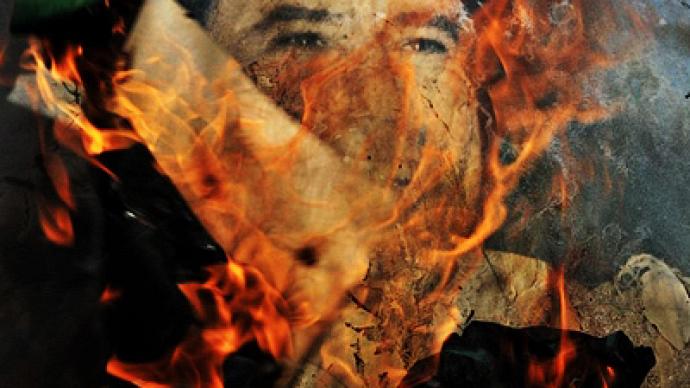 The UK has reportedly been in talks with a senior aide to the Libyan regime who is believed to be seeking an exit strategy for the leader Muammar Gaddafi. This follows the defection of Foreign Minister Moussa Koussa.
According to the British newspaper The Guardian, Mohammed Ismail, an aide to Gaddafi's son Saif al-Islam, visited London to discuss the future of Libya. Earlier, several Western powers said they insist on Muammar Gaddafi stepping down from power as a prerequisite for peaceful settlement. Observers believe he may have been offered immunity from prosecution and an honorable retirement, while his family would be allowed to play a significant role in the future government.
More defections expected
Media sources suggest that at least ten top-ranking Libyan officials may flee the country.So far there are two confirmed defections in Gaddafi's ranks. The first is Moussa Koussa who was the Libyan foreign minister and is now in London holding discussions with British officials, despite the fact that they were quick to declare the defector will not be granted any political immunity.The other is Ali Abdussalam Treki, another former Libyan foreign minister who has been occupying the post of Libya's ambassador to the UN where he served a term as the president of the General Assembly – he also has announced his departure.It is likely to be a psychological blow for Muammar Gaddafi, whose regime seems on the verge of crumbling. But in Tripoli the government laughed off all suggestions of the defections.Libyan authorities denied Koussa's defection, saying he was suffering from diabetes and officially approached the officials to seek treatment abroad. The official spokesman of Libya Ibrahim Moussa acknowledged that if Moussa Koussa returns to Tripoli he will be welcomed back. Ibrahim Moussa said there have been no other consequential departures from the regime and they do not expect any other people to leave – despite rumors about ten other possible departures.Several Libyan top officials who are in Tunisia for talks are allegedly staying there and among them is the country's former prime minister and the current head of the Libyan parliament. Libyan authorities said they are simply unaware of this.Defections of high profile members and the exit negotiations raise questions about how much longer the Gaddafi regime can survive.
War fortune favors Gaddafi
Nevertheless, Gaddafi's troops are still advancing. The current fighting is taking place around the strategically important town of Brega, where seven civilians were reportedly killed and 25 more injured during air strikes carried out by the coalition forces.Fighting in the western part of the country, in the city of Misurata, continues. RT was told that over the last 24 hours at least 20 civilians have been killed by government shelling in residential areas.Meanwhile the opposition leaders are offering a cease-fire deal, but they are insisting that Gaddafi first pull back his troops from the western cities of Libya and also stop his offensives in the east of the country. They say that if he does not do this, they will "fight on and liberate this country." However, there is no reason for Gaddafi to agree to the deal, because his troops outnumber the rebels 10 to 1, and after two weeks of NATO air strikes, the rebel fighters have been pushed all the way back the oil town of Brega.
In Tripoli, there have been air strikes and anti-aircraft gunfire for two weeks now. There are almost non-stop demonstrations in support of the Libyan leader, with one held overnight at his compound Bab al-Azizia.At the same time, the Vatican's top envoy to Libya, Bishop Giovanni Innocenzo Martinelli, confirmed that at least 40 civilians have been killed in air strikes in Tripoli alone – most of the casualties were in the eastern Tripoli suburb of Tajura. In one incident, a house collapsed on a family with small children inside.Libyan state television presenters have read a statement from Gaddafi saying that NATO air strikes will only cause more civilian deaths and spark a crusader war.
According to the editor of the online political magazine Spiked, Brendan O'Neill, the fact that the United Kingdom accepted Moussa Koussa on its soil shows the West's true intentions toward Libya. "This shows what the West is going to do in Libya. It is going to back some kind of former regime, former rulers, making their own new kind of government," he said. "This is not going to be an intervention that supports the actual course of liberation, or the course of democracy, or the people in Libya who actually want to run their own lives and be free.""It is going to be an intervention that ends up strengthening the hand of people who have already had power in some form. Former friends of Gaddafi, former backers of Gaddafi – they are the people who are going to benefit," O'Neill added. "I think at the end of this, we could end up in a situation where Libya is ruled by pretty much the same people, just without Gaddafi himself."
By bringing their intelligence operatives into Libya, the US and the UK are trying to influence the country in a way which may not be in the Libyans' best interests, argues researcher and author Adrian Salbuchi.  "We know that back in 1953, it was the CIA that ousted Mohammad Mossadegh from Iran because of oil, so the story seems to repeat itself," he said. "And just for the record, I am speaking from Argentina, where the CIA has backed military authoritarian coups in Chile and in Argentina, and the consequences have been horrendous, so every time I hear about CIA 'helping' the rebels, I become concerned for those people."
Susan Lindauer, a journalist and author specializing on American interventions, has never believed the allied forces intervened in Libya out of humanitarian reasons. It is a war for oil which was prepared long ago, Lindauer argues. Anyone who cared about the Libyan people would stop immediately. "Gaddafi will never step down," she said. "He is a fighter till the end. It seems extraordinary that the opposition forces, while losing the war, try to dictate terms to the party that's winning, which is Gaddafi. Once again we see that the UN is on the wrong side of the conflict. The UN has jumped into the conflict before they understood who they were teaming up with. They did not understand anything about the opposition force, who may be passionate in their politics, but they are not highly organized on the battlefield." Reflecting on the causes of the West's intervention, Lindauer recalled the 1988 Lockerbie incident, which involved the bombing of Pan Am flight 103 flying over the town of Lockerbie in Scotland. The bombing, which killed hundreds, was blamed on Libya, and in 2002 Gaddafi agreed to a $2.7 billion payout to the victims of the bombing and their families. "Last summer we began to hear interesting gossip about Gaddafi. We began to hear that Gaddafi was pressuring US and possibly British oil companies – and it may also extend to French and Italian oil companies – to reimburse Libya for the payments to the families of Pan Am 103," she stated. "Libya had nothing to do with Lockerbie, and the UN imposed sanctions against Libya and forced Libya to pay $2.7 billion in damages to the families," said Lindauer. "It is significant that in October, Chevron and Occidental Petroleum pulled out of Libya. Italy, France, Britain, China and Germany – all those countries are still in Libya, but the US pulled out, and at that point I believe the US started thinking they need to do something to remove Gaddafi, because he was going to continue to demand behind the scenes that Libya receive compensations for the sanctions that they suffered wrongfully for 12 years."
You can share this story on social media: