Toppling Gaddafi may result in another dictatorship – historian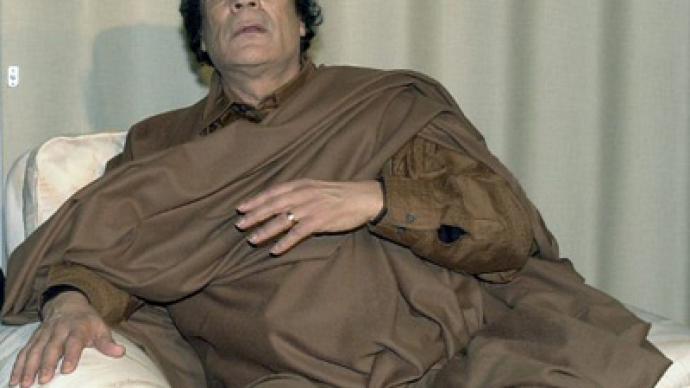 With Gaddafi forces shelling an area on the border with Tunisia, fears are rising that another month of conflict may make the rebels' position untenable - but even if they do prevail, it could be a change of one dictatorship for another.
Tunisia is threatening to report Libya to the UN Security Council over the "continuing firing of rockets by Libyan forces towards Tunisian territory," said Tunisian news agency TAP as cited by Reuters. "The Tunisian government views those acts as belligerent behavior from the Libyans, who have pledged more than once to prevent their forces from firing in the direction of Tunisia, and have failed to respect these undertakings," TAP reported a source in Tunisia's foreign ministry as saying.   In other developments rebel forces say the former head of Libya's National Oil Corporation, Shokri Ghanem, has defected and fled the country. But this information has not been confirmed by Gaddafi's regime. A Libyan government official said there was no sign Shokri Ghanem, who is also a former prime minister, had defected. Still, Reuters reported a Tunisian security source as saying on Tuesday that Ghanem "is in a hotel with a group of other Libyan officials" in southern Tunisia.If this is true, Ghanem will be the second high-ranking Libyan official to flee following foreign minister Moussa Koussa's flight to Britain in March. His departure might also trigger a total collapse of fuel supplies, with fuel shortages already causing long queues at petrol stations in Libya.Russ Baker, an investigative journalist and editor at whowhatwhy.com, expects to see further "tremendous civilian casualties" as well as a huge amount of property damage, as NATO operations continue in the country. "I don't think you can break this stalemate," said Baker considering the possibility of the ceasefire. "They [the coalition] have put it to a situation where there are no alternatives at this point except to remove Gaddafi – with all the damage that it entails. Every time they do anything, they force him to retaliate further against the other side, which results in more civilian deaths, which justifies then more allied military action."The entire thing is about oil, says Baker, not about protecting the civilians as stated by UN resolution 1973. And while all the countries are pursuing their own business goals in this conflict, it will be the taxpayers of the countries behind the mission to compensate for all the expenses and damages, concludes the journalist.Professor Mark Almond from Oxford University thinks NATO is chasing rainbows if they really expect a tolerant multi-party democracy to emerge in Libya after they topple Gaddafi.  "The risk is that the people who grew up under a dictatorship – the politicians, the activists – they want to replace the dictator with themselves. They may use the slogans of tolerance and democracy, but once they are in power, once they control the oil, they may decide they are the people entitled to it as they have done the fighting, with a little bit of help from NATO," says Almond.Almond expects to see an intensification of the NATO campaign in the hope that Gaddafi can be toppled in the next few weeks."But if this draws on for another month, it will raise a very serious question about the viability of the rebels. Surely, if Gaddafi was so profoundly unpopular, his regime would have been toppled much more quickly as we have seen in other revolutions," concludes Almond.
You can share this story on social media: