Gaddafi claims over financing Sarkozy presidential campaign reappear on French TV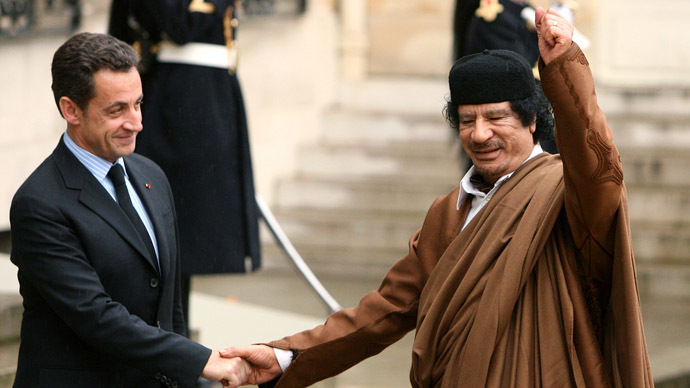 France's second-largest public television channel has aired an audio excerpt from an interview with Muammar Gaddafi in which the late Libyan dictator repeatedly claimed that he financed Nicolas Sarkozy's presidential campaign in 2007.
"It's me who made him president," Gaddafi said in an interview recorded in 2011, broadcast by France-3 on Wednesday. The former dictator was speaking in Tripoli in mid-March, just a few days before the first Western strikes that led to his downfall and killing by militias in October.
"We gave him necessary financing to enable him to win presidential election. He visited me when he was Interior Minister and asked me for financial support," Gaddafi told Le Figaro journalist Delphine Minoui, without providing any evidence.
Asked whether he felt betrayed by France's recognition of the opposition to the regime, Gaddafi, who was received in Paris with fanfare and grandeur in 2007, said he did, later adding that "Sarkozy has a mental disability."
When asked why he agreed to finance Sarkozy's presidential campaign, Gaddafi responded: "For us Libyans, if the president of the French Republic wins an election thanks to our funds, it's a real gain."
Gaddafi's official interpreter, Moftah Missouri, who translated the interview, told France-3 that after the interview the Libyan leader told him that the financial aid totaled "$20 million."
Gaddafi's son has also made similar claims. "Sarkozy must give back the money he took from Libya to finance his electoral campaign. We funded it and we have all the details and are ready to reveal everything," Saif al-Islam told Euronews in 2011.
In February 2013, French police searched the office of former Interior Minister Claude Gueant as part of an investigation into whether Sarkozy accepted a campaign contribution from Gaddafi.
Claims that Sarkozy allegedly received generous backing from the late Libyan leader first appeared in 2012, when Mediapart news agency accused him of accepting 50 million euros from the Libyan leader to fund his 2007 campaign. The agency published a statement signed by former Libyan Foreign Minister Moussa Koussa saying that the claim was true. Sarkozy accused the organization of slander, calling the claims "grotesque."
Last January a French-Lebanese businessman, Ziad Takieddine, also claimed he had proof of the funding. He told a French judge that Sarkozy allegedly received the money from 2006. He said the donations continued after he became president.
Sarkozy is not the only one accused of maintaining ties with Gaddafi. It has been reported earlier this week that former British Prime Minister Tony Blair could face legal action over his alleged intervention in a compensation claim by British victims of IRA terrorism. Lawyers representing 200 terror victims say that Mr. Blair conspired with Colonel Muammar Gaddafi to block their claim against the Libyan regime that supplied Semtex for the attacks. As a result, British terror victims have lost out on a multi-million dollar compensation deal.
You can share this story on social media: