No mercy in death: Gaddafi's remains on show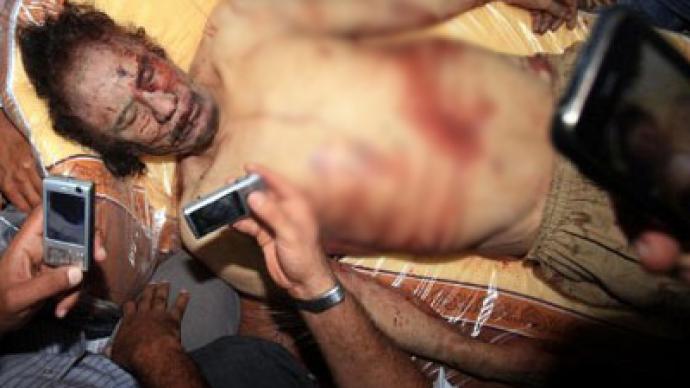 The world seems to show no mercy to the late Libyan ex-leader. While the horrific photos of his death have captivated mass media, his fellow countrymen are lining up for a family photo with his bloodstained body.
Families with children line up to have a look at a body of the late Colonel Gaddafi, showcased since Friday in one of the commercial freezers at a shopping center in Misrata. Hundreds of people wait outside the freezer for their turn to pose for photos with the dead colonel stored as a trophy. Guards tried to control the crowd, allowing only by small groups into the room. But the flow was so intense that visiting hours had to be set – separate for women and children, and men.Earlier, a senior member of the NTC promised that Gaddafi would be buried with respect according to Islamic tradition, but will not have a public funeral. The fighters in Misrata said the body would be buried within 24 hours after the death, as Islamic tradition calls for quick interment. But then the interim government delayed the burial due to the need to determine the circumstances of his death. On Friday, the United Nations human rights office urged that an inquiry into Gaddafi's death be opened due to disturbing circumstances of his killing.But now Agence France Presse reports military commanders in the Libyan city of Misrata said on Saturday that no post mortem would be carried out on the body. "There will be no post mortem today, nor any day," the Agency quotes Misrata military council spokesman Fathi al-Bashaagha as saying. "No one is going to open up his body."NTC chief Mustafa Abdel Jalil, however, confirmed that Gaddafi's death was being investigated without any reference to a post mortem examination.On Friday, Libya's information minister said no decision has been taken on when or where the body will be buried. The tribe of the late Libyan ex-leader called on the UN, Organization of the Islamic Conference and Amnesty International for a chance to bury Colonel Gaddafi and his son."We call on the UN, the Organization of the Islamic Conference and Amnesty International to force the [National] Transitional Council to hand over the martyrs' bodies to our tribe in Sirte and to allow them to perform their burial ceremony in accordance with Islamic customs and rules," British newspaper The Guardian quotes the statement as saying.What to do with the fallen dictator's corpse is the subject of a row inside the National Transitional Council, reports the newspaper. Libya's interim Prime Minister Mahmoud Jibril arrived in Misrata to talk with local NTC representatives. They have made it abundantly clear they do not want Gaddafi to be buried in their town. The NTC leadership in Tripoli wants a speedy resolution. One popular option is to bury him at sea, as was done with Osama Bin Laden.
You can share this story on social media: