'Send this to Assad': New shock video shows rebels mocking Gaddafi body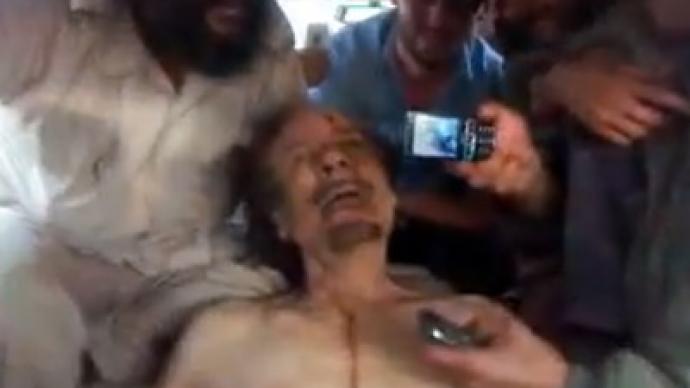 A shocking video showing deposed Libyan leader Colonel Gaddafi shortly after his death has appeared on YouTube. A Syrian activist tweeted the video, recommending that embattled President Assad watch it.
The new video shows the bloodstained shirtless body of the deceased leader surrounded by armed men in the back of a vehicle. The militants then lift Gaddafi's limp body onto a stretcher.Twitter user Sami al Hamwi uploaded the video to his account, adding the caption "someone needs to send Assad this."Although the footage has not been independently verified, it is dated October 20, the day that the leader was captured and killed by rebels.The city of Sirte became the epicenter of the Libyan conflict and was eventually surrounded by National Transitional Council forces aiming to crush the vestiges of the pro-Gaddafi resistance.A previous video was disseminated in October of last year shortly after the Colonel was arrested in the city of Sirte. The footage showed the former-dictator covered in blood, barely able to walk and being manhandled by a group of soldiers from the National Transitional Council.The brutality of the ousted leader's passing drew international condemnation and a flood of demands for the opening of an investigation into the circumstances of his death. After initial strong rhetoric branding Gaddafi's death as a possible war crime, investigations into the former leader's killing never came to fruition.
The Syria connection
Concerns have been voiced by the international community that the Syrian conflict will go the same way as Libya. The uprisings against Syrian President Bashar al Assad has been raging across the country for the past 16 months, claiming more than 10,000 lives according to UN estimates. In recent months the conflict has become increasingly militarized, with reports of al-Qaeda militants filtering into Syria from neighboring countries.The international community has thus far been unable to agree on a resolution to the Syrian crisis.Western political rhetoric calls for the removal of President Assad, while Russia and China insist it is up to the Syrian people to decide the fate of their country.UN special envoy to Syria Kofi Annan has drawn up a plan that stipulates a transitional government with members of the opposition incorporated. However, Syrian rebels have categorically refused to accept any resolution that does not call for the immediate removal of Assad.Meanwhile, the latest reports from Syria say that fighting between rebel and government forces has reached the Syrian capital of Damascus in what the opposition has dubbed the "final battle."RT reports an increased military presence on the streets of Damascus and sporadic gunfire and blasts close to the city center.
You can share this story on social media: