G8 leaders positive about outcome of the summit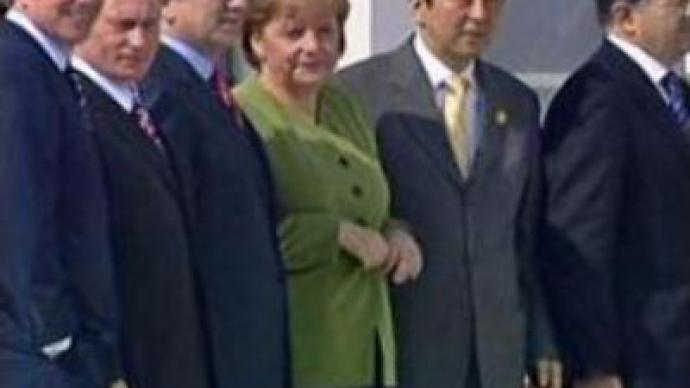 As the G8 summit in Germany comes to its end the participants have been summing up the results achieved. The major topics discussed included climate change, allocation of aid to Africa and anti-missile defence elements in Europe.
German Chancellor Angela Merkel has held a press conference, summing up the results of the summit.
"I believe this has been a successful G8 summit. Many have contributed to this success: the participants and organizers, those who were peacefully engaged beforehand, and also the police. Heiligendamm and Kuehlungsborn have been good hosts and the atmosphere of course always plays a role, too. I consider it a successful summit because far-reaching decisions in central questions have been reached,"
said the German Chancellor.Africa has been high on the agenda on the closing day of the G8 summit in the German city of Heiligendamm. The world leaders have agreed a $US 60 billion pledge to fight HIV/AIDS and other diseases on the continent. The G8 leaders stressed their commitment to the promises made back in 2005. All this time they have been under pressure to fulfill their promises and now they pledged $US 60 BLN to fight AIDS, malaria and TB. Half of that money, $US 30 BLN will be coming from the U.S., who also promised to keep Africa on the agenda of the next G8 summit. Meanwhile, some specialists say the amount of money the leaders have agreed upon is not enough to tackle the problem in its integrity.
"Millions of people do rely on the promise and on the treatment the funding can provide. Although $US 60 BLN sounds like a big sum, you have to remember that the G8 leaders set no date, they did not determine how much they were going to allocate a year. The amount agreed is supposed to fund treatment of AIDS, malaria and TB – while the UN estimates that $US 23 BLN will be needed to fight AIDS alone. So financial pledges need to be increased,"
believes Steve Cockburn from Stop Aids Campaign. Cobus de Fwardt, the Managing Director of the Transparency International believes that fighting corruption both in Africa and in the EU could increase the effectiveness of the promised aid.
"The G8 also has to ensure that companies operating from the G8 countries actually behave properly when they do business in Africa. In other words that they do not continue to bribe foreign officials. The G8 has responsibility to ensure that its financial markets and institutions are not used to circulate proceeds the corruption from Africa because you cannot give with the one hand and with the other hand turn a blind eye to benefiting from corruption in Africa and the rest of the developing world,"
he underscores. However, Tido Von Schoen-Angerer, Medicine Campaign Director of Medicines Sans Frontiers is sure that
"G8 cannot solve all the world's problems, but I think what is important is that what the G8 discusses does not damage what the poor countries need. And what we see is that the agenda they have the emerging economies could be harmful because countries like India, Brazil are the key producers of the affordable quality medicines which Africa depends on."
You can share this story on social media: