British G4S security group in hot water after accusations of torturing and drugging inmates in S. Africa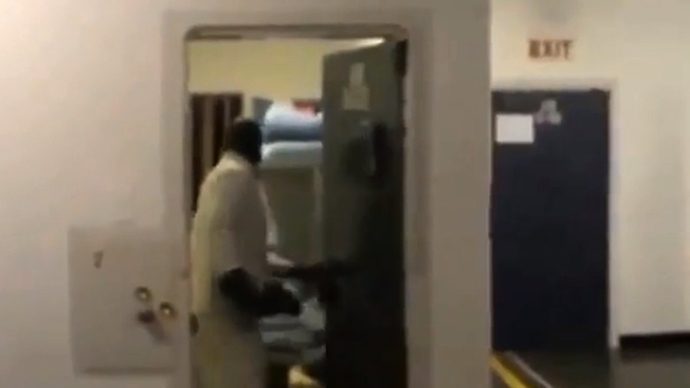 British G4S, world's largest security company and London Olympic game security provider, is under fire for allegedly torturing, electroshocking and forcibly drugging inmates of a S. African prison. G4S, which was running the jail, denies the allegations.
The allegations emerged on October, 9 South when Africa's Department of Correctional Services announced that it was taking over the management of 3,000 inmates at Mangaung correctional center as "the contractor [G4S] has lost effective control of the facility". The decision was provoked by a series of stabbings, riots, strikes and a hostage taking in the prison.

Based on a year-long investigation, the Wits Justice Project (WJP) alleged cases of mistreatment and miscarriages of justice in South Africa's prison.

Prisoners, warders and health care workers told WJP that involuntary medication was regularly practiced.
'No, no, no… I'm not a donkey'

Allegations of drugging inmates have been also supported by a footage that was uncovered during a research project conducted at the Mangaung Correctional Centre near Bloemfontein, roughly 400 km from Johannesburg. 

The video, shot on July, 24, allegedly depicts what researchers say is electrocution and inmates having medication forced upon them.

It was leaked after the South African government had taken over control of the facility after G4S dismissed 330 warders following strikes in August and September.

Shot by the prison's emergency security team (EST), which is legally tasked to film all its actions, the video shows inmate Bheki Dlamini, serving a 21-year sentence for armed robbery, being injected involuntarily.

"I am not a donkey,"
Dlamini shouts loudly, pleading
"No, no, no"
as five men hold him down and drag him to a room where they wrestle him, and then a nurse is called.
A staff member at the prison hospital, who requested anonymity, has alleged that inmates were injected with anti-psychotic drugs Clopixol Depot, Risperdal, Etomine and Modecate, which have life-threatening side effects and cause memory loss, muscle rigidity and strokes.
According to WJP, these drugs have been used at the prison up to five times a week, sometimes on inmates, who showed no sign of being psychotic.
In the case of Dlamini, according to medical files, he was not a psychotic or schizophrenic and did not need any anti-psychotic drugs.
"Dlamini had complained to a warder that he did not like the Vienna sausages they served him; he demanded that the warder should bring him 'real meat',"
said Egon Oswald, a human rights lawyer, who represents Dlamini.
"The warder told him the emergency security team would deal with him."
Oswald, who spoke to Dlamini on October18, said his client was injected with the antipsychotic drug Etomine.
The EST members, who anonymously spoke to the WJP, claim they had no idea what the inmates were injected with. They alleged that only prisoners with psychiatric problems or were aggressive received the involuntary treatment.
According to Dlamini's accounts cited by WJP, the nurse, who was called to give him an injection, refused to do so as she claimed it was unlawful to inject someone without a prescription.
However, the "Ninjas", as the emergency security team is dubbed, forced her to inject.  
Ruth Hopkins, an investigative journalist with the Wits group, said she has documented about
20 cases
of forced injections of anti-psychotic drugs.
Electroshock as a means 'to instil fear in inmates'
The WJP team also heard accounts of electric shocks and beatings from almost 30 prisoners by the facility's staff.  

"Some said they would pass out when the shocks became too intense," said Ruth Hopkins.

"A pattern that emerged throughout my investigation is that inmates who were considered difficult or who were involved in some problem, they would take them to the single cells in the prison, strip them naked, pour water over them, put them on a metal bed frame and use these electroshock shields to shock them," she revealed.

A former G4S employee, who did not wish to be named, confirmed to BBC Radio, as said by the Guardian, that security guards used electric shields "sometimes" because they "were understaffed" or "to instil fear in the inmates."

"We went overboard, so to say: sometimes you go and shock them individually in a segregation unit just to make sure they could be afraid of us," he said. "The management was very happy with the results and with some of the incidents if it was during the week, then the official was there at the center and they would respond with us and we do these things with them, in their presence."

Pending investigation: 'Will leave no stone unturned'

In response to the most recent allegations, South Africa's Correctional Services Minister, Sibusiso Ndebele, promised an exhaustive investigation.

"As the Department of Correctional Services (DCS), we view these allegations, of forcibly injecting offenders with antipsychotic medication and using electroshocks to subdue and control them, in a very serious light," he said in a formal statement on October, 25.  "We will leave no stone unturned in this investigation, in order to ensure that those implicated in such inhumane acts face the consequences of their actions."

Meanwhile, the British security group has denied any wrongdoing, insisting its staff had not electrocuted and drugged prisoners at South Africa's Mangaung prison.

"We do not use any form of torture or shock treatment," a G4S spokeswoman said on Monday.

G4S claims the staff also does not have access to medication.

"All medical decisions for inmates are handled and addressed by independent certified medical staff," the spokeswoman said.

The security group G4S insisted that the medical treatment of prisoners was managed by a third company.

"The health and treatment of inmates are managed by a reputable third-party medical center. G4S staff members do not have access to, nor do they administer, any medication," G4S said.

It has called the allegations "unsubstantiated" and "taken from anonymous sources, disgruntled former employees and convicted criminals."

Despite the recent development, G4S head of operations in Africa, Andy Baker, said that he expected the company to be given back control of the prison in the near future.

"It's difficult in an environment with so many people and so many moving parts to categorically state that there has never been somebody stepping over the line. To my knowledge there has never been an abuse of this type of nature," Baker said in the interview with the BBC.

G4S, the world's largest security company, "official provider of security" for the Olympic Games in London, has seen its reputation crumble after recent incidents.
It has been informally accused of human rights abuses in the Israeli-occupied Palestinian territories. G4S provided equipment for several Israeli military checkpoints in the occupied West Bank as well as for security systems at the Ofer detention center in Ramallah.

The facility houses a jail and a military court, where Palestinian political prisoners, including children, are allegedly held and tortured.

Despite that, the British government handed over the Olympic Games' security to the company. The move was questioned in the British Parliament, which strongly criticized the detention center in Ramallah for human rights abuses. 
In one of the recent reports, the HM Inspectorate of Prisons reported that Oakwood prison, in Staffordshire, England, which G4S has been running since it opened in April 2012, is failing to provide prisoners basic healthcare and sanitation. Moreover, the chief prison inspector found drugs were freely available to inmates.

You can share this story on social media: