Economy and currency wars on G20 table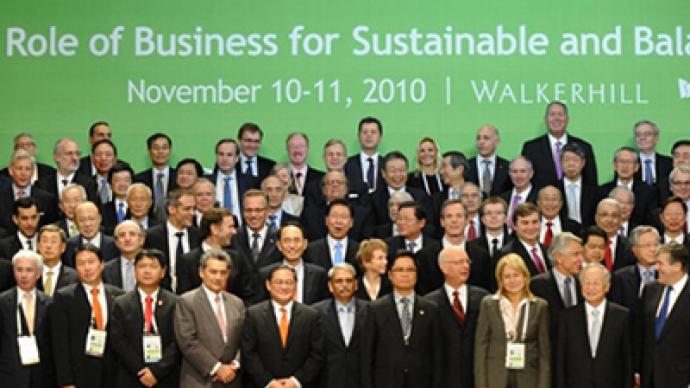 G20 leaders have gathered in South Korea, and the one thing on their minds is money. Those ruling the world's major economies are confronted with preventing a recurrence of the financial nightmare of 2008.
The summit kicked off with a business forum and Russian President Dmitry Medvedev urged the G20 to create a favorable environment for medium and small businesses, which he believes would help global recovery.Medvedev has already had a bilateral meeting with British Prime Minister David Cameron, both saying they see eye-to-eye on many of the top priorities of the G20.Dmitry Medvedev will also be holding talks with China's President Hu Jintao which are expected to focus on US financial policy, which right now the world is less than happy with.For the South Korean capital, Seoul, the gathering underlines its economic awakening. But there are major spats to iron out – as countries circle their financial wagons, while others try to call the shots. This year's G20 is being billed as a financial coming-out event for South Korea – proof of just how far the country has come in the nearly 60 years since the end of the Korean War. Once poorer than its northern neighbor, South Korea now boasts the 13th largest economy in the world. North Korea may lie just four kilometers beyond the FreedomBridge and Demilitarized Zone, but economically the two are worlds apart.The threat from the Democratic People's Republic looms particularly large, and Seoul isn't taking any chances: security forces are on high alert. But there is another conflict on the G20 leaders' minds – the outbreak of the so-called Currency War.The US leads the charge, accusing China of cheating world trade by artificially weakening its currency. It wants the yuan to be bolstered."The United States is going to China and saying: we want you to commit economic suicide, just like Japan did. We want you to follow the same thing: we want you to revalue your currency, we want you to squeeze your companies, we want you to go bankrupt," says Michael Hudson, Financial Times contributor. "Well, you can imagine what the Chinese are saying. They're laughing! They're thinking, are you guys joking?"And yet Washington stands accused of allowing its own dollar to dwindle, roiling emerging markets whose own currencies are rising strongly and damaging their export competitiveness. Complaints intensified after the Federal Reserve announced a second print-run of $US 600 billion – the "quantitative easing" designed to get cash flowing. However, other economies worry it will flood their markets.Russian President Dmitry Medvedev wants the summit to agree that when countries like the US take big steps to save themselves, they should consider the ripples it causes and get permission from the G20 first."Russia's position is that we need a more coordinated approach; we don't want surprises from our partners," says Russian presidential aide Arkady Dvorkovich. "We want a more intensive policy dialog between Central Banks, Finance Ministries. This can lead to a greater stability on the markets."Among other leading critics is Germany, the world's fourth-largest economy, with its Finance Minister calling the US "helpless".Monument Securities chief economist Stephen Lewis said, "I don't think the US is making its case any stronger through the measures that it's taking, through printing dollars to weaken its own currency, because that looks far too much like a competitive devaluation… I think the European countries see it as a dangerous move because what it could do is increase the capital controls around the world."That is not what Barack Obama wants to hear. The US President's call for Germany – along with China and Japan – to rely less on their dominant export markets and spend more at home is falling on deaf ears.The truth is that no one is happy with today's international monetary system, especially the dominance of the dollar as a reserve currency and America's management of it. And what business leaders want the G20 to realize, is that each nation will have to fight their natural urge to try and protect their trade, and also the need to boost foreign investment.Editor in chief of the magazine Russia in Global Affairs, Fyodor Lukyanov, expects a tough currency war between China and the US."Basically each country is trying to keep its currency at the lowest possible level to promote export and protect its own market from inflow of imported goods. This is especially vivid in Chinese-US relations. China is manipulating with the fixed Yuan exchange rate arguing that it is absolutely necessary for stability in the country, while the US is trying to pursue China to liberalize the exchange rate, but without any bigger response," Lukyanov told RT
Alan Alexandroff, co-director of the G20 research group, said that America's "quantitative easing" will be just one issue on the summit's agenda. He said that the G20 leaders will try to focus on the framework idea, where all countries will be involved in the issues of surplus deficit, currency, and trade surplus, among others."It seems to me, there will be a real full debate about this. How far they can proceed, remains an issue, but we will know within 24 hours," Alexandroff said.
Sergey Brilev, Russian political commentator, said that though G20 haven't become a real agenda-setting and decision-making authority, it fulfills its real purpose – for leaders to meet and discuss things. "There should be something in between G8 and G20. Having said that, I'm not that pessimistic, I think it is a good spot to exchange views," Brilev said. "I don't think that Russia, Brazil, India and China of course will be able to reconvince the Americans, especially given the currency wars agenda. However, not being able to convince, they will be able to share their concerns, and the Americans should be listening."
Donald Kirk, from the Christian Science Monitor, thinks no consensus is likely to result from the meeting."What they are going to talk about is the need to redress global imbalances," Kirk said. "They are going to have a lot of fun playing with words like that. But after the wordplay is done, after the handshakes are done, there will be no deal here that really counts."
Greg White, editor of the American-based news website Business Insider, believes that the currency conflict is not going to end any time soon."Right now it's the world against the United States, and in terms of an agreement to deal with the currency war, nothing is going to happen," he told RT. "There is no interest coming from China or Germany, the two other key players needed to solve this problem. Instead, we are going to get a weak resolution that pretty much says nothing." "The world is paying through the asset bubbles that are being blown throughout the emerging markets – you could see that in Chinese inflation rates last night," the expert added. "The amount of money that's being spent on producing real estate in China is the sign of that capital flowing there. And the world is going to pay when their asset bubble bursts."
You can share this story on social media: