Progress in cooling Fukushima reactors interrupted by smoke spew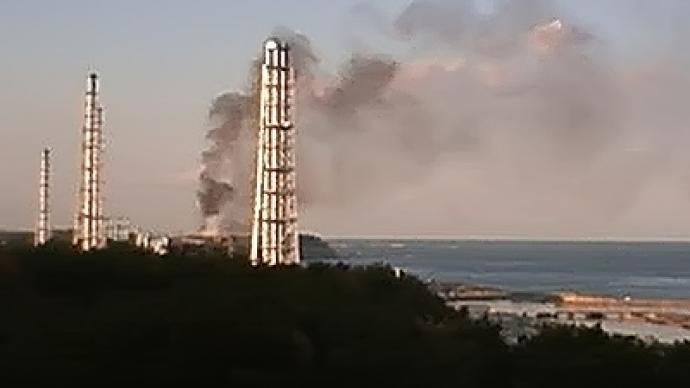 The operation intended to check whether the pump of Fukushima's Reactor 3 can supply fresh water to the reactor from its tank instead of spraying seawater has been interrupted by another black smoke spew.
A test-run of a cooling pump conducted by Tokyo Electric Power Company on Wednesday ended with nothing but another evacuation of the people working there.Reactor 3 operates on plutonium, which may cause considerably more risks than uranium if it is leaked.However, no radiation level rise has been detected since the reactor started giving off smoke. Moreover, radioactive levels had fallen in comparison with the numbers measured in the morning.The black smoke emanating from Fukushima's Reactor 3 is gradually slowing down, Kyodo news agency reported. On Monday similar smoke of undetermined origin was observed coming from the same reactor building.Japan's Chief Cabinet Secretary Yukio Edano sees no need to widen the evacuation zone at this point around the Fukushima nuclear plant, Reuters reports.Electricity to all reactors has already been restored, but it is still being used only for lighting and several secondary devices, such as thermometers and devices that measure pressure and water levels, which can provide better information about the reactors' condition but do not solve the problem.The cooling systems haven't been launched yet.
Real versus potential risks in radiation crisis
Japan Prime Minister Naoto Kan asked people to refrain from eating several kinds of vegetables most affected by radioactive contamination.A serious 164 times the normal radioactive iodine level in the Fukushima-grown ''kukitachina'' leaf vegetable detected on Monday has forced the Japanese government to look into its whole situation concerning edible plants and produce.As a result, on Wednesday the ministry announced that 11 vegetables are currently unsafe for consumption and do not fit Japan's safety standards. Besides that, government also named several vegetables grown in Fukushima that cannot be shipped, but can be eaten safely.But it is not only Fukushima prefecture which is affected by the radiation leak. In neighboring Ibaraki all shipments of raw milk were suspended.Chief Cabinet Secretary Yukio Edano has officially denied the radiation levels could pose an immediate risk to human health, saying that in order to receive a half-year's normal radiation dose, one would have to consume 100 grams of the most radioactive plant yet found daily for over 10 days, NHK World reports. Yukio Edano also told the government will compensate the farmers affected by the suspensions.Meanwhile, the Tokyo metropolitan government has warned citizens to not let infants drink tap water or to use it for baby food, due to double the normal radioactive iodine levels at a local water purification plant.
You can share this story on social media: