Toshiba launches radiation-proof robot to clean up Fukushima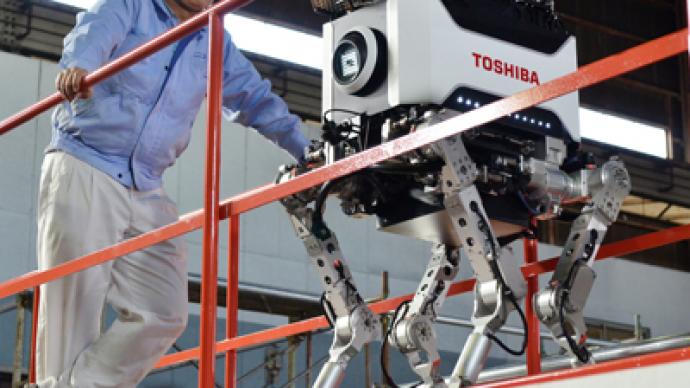 In a bid to avoid having to send humans into environments with extremely high radiation levels, Toshiba has launched a new robot to help engineers decommission the Fukushima nuclear plant.
Toshiba says the new robot can withstand high levels of radiation, but struggles to climb stairs, is prone to freezing with one leg in the air and once it falls over can't get up on its own.

The robot, which was specially designed to help decommission Japan's crippled Fukushima Daichi nuclear plant, features a dosimeter to measure radiation and six cameras.
It can also stay in highly irradiated areas, such as a 100 millisievert environment, for about a year. Such environments are extremely dangerous for humans; a rise in cancer becomes statistically detectable at 100 millisieverts, AP reports.
However, the four-legged machine as a few teething troubles. During a jerky demonstration to reporters, it had to be lifted and rebooted by several people, after which it crawled up a flight of eight steps, taking about a minute to get up one step. And if it does fall over, it won't be able to get up without a helping human hand.
Despite its limitations, Tokyo Electric Power Company (TEPCO), which owns the destroyed nuclear power station, is hoping it might be able to go where they dare not send any human. The reactors' suppression chamber, which melted down when a tsunami hit the plant in in March 2011, is highly irradiated. TEPCO hopes the robot may be able to help in the cleanup process. "We need to go in and first check what is there," said Goro Yanase, Toshiba's Senior Manager. The suppression chamber registered a radiation level of 360 millisieverts when it was last measured. This is not the first time that robots have been used at Fukushima. In April 2011, just a month after the disaster, a Packbot probe was sent into highly irradiated areas – and found temperatures of up to 41 degrees Celsius and humidity ranging from 94% to 99%.  Japanese firms manufacture some of the most advanced robot technologies in the world, but until now their wireless remote-controlled networks have not been designed to cope with high radiation fields.  During the Chernobyl disaster in 1986, robots proved useless and men were thrown into the breach instead. But Toshiba said the robot's wireless network can be controlled in high radiation by automatically seeking better transmission when reception becomes weak.
You can share this story on social media: