Fukushima fish carrying 258 times the 'safe' level of radiation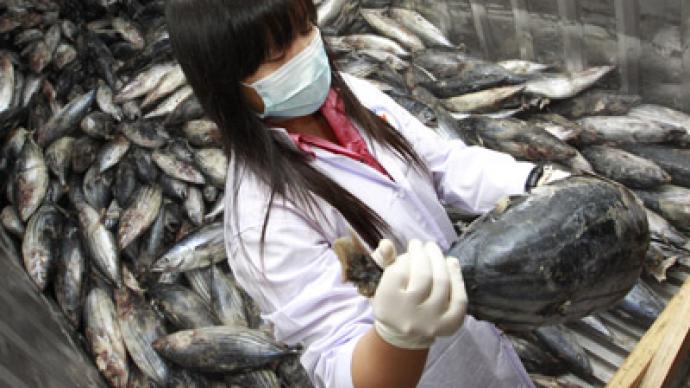 A pair of fish captured near Japan's crippled Fukushima nuclear plant have shown to be carrying record levels of radiation. The pair of greenlings are contaminated with 258 times the level government deems safe for consumption.
The fish, which were captured just 12 miles from the nuclear plant, registered 25,800 becquerels of caesium per kilo, according to Tokyo Electric Power Company (TEPCO).TEPCO says the high levels may be due to the fish feeding in radioactive hotspots. The company plans on capturing and testing more of the fish, as well as their feed, and the seabed soil to determine the exact cause of the high radiation.The findings were surprising for officials, who had previously seen much lower levels of radiation in contaminated fish.Fishermen been allowed to cast their reels in the nearby waters on an experimental basis since June – but only in areas more than 31 miles from the plant.Previously, the highest recorded radiation seen in the captured wildlife was 18,700 becquerels per kilo in cherry salmons, according to the Japanese Fisheries Agency.The radiation was caused by a meltdown of three reactors at the Fukushima power plant after it was damaged by an earthquake and tsunami in March 2011.The disaster was so intense that contaminated fish were caught all the way across the Pacific Ocean, on the California coast.But it's not only aquatic life that is suffering from side effects of the leaked radiation.According to researchers, the radiation has caused mutations in some butterflies, giving them dented eyes, malformed legs and antennae, and stunted wings.The results show the butterflies were deteriorating both physically and genetically.But the harmful risks don't stop with butterflies. The radioactivity which seeped into the region's air and water has left humans facing potentially life threatening health issues.Over a third of Fukushima children are at risk of developing cancer, according to the Sixth Report of Fukushima Prefecture Health Management Survey.The report shows that nearly 36 per cent of children in the Fukushima Prefecture have abnormal thyroid growths which pose a risk of becoming cancerous.The World Health Organization warns that young people are particularly prone to radiation poisoning in the thyroid gland. Infants are most at risk because their cells divide at a higher rate.
You can share this story on social media: