6 Fukushima workers exposed to radiation after pipe incident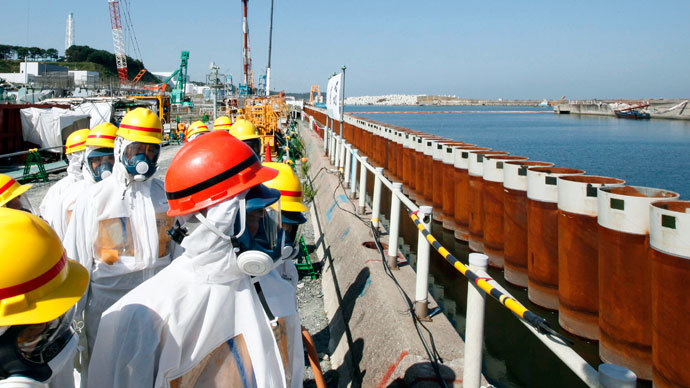 Six people working at the site of crippled Fukushima power plant have been exposed to radiation after one of them mistakenly removed a pipe connected to a contaminated water treatment system. It's the second incident at Fukushima in three days.
The accidental pipe detachment on Wednesday resulted in the leak of several tons of water, which Fukushima operator TEPCO uses to cool the reactors. 
The water came from a system which removes salts from the cooling liquid after it comes out from the damaged reactors. The leakage continued for some 50 minutes. Reuters estimates that at least seven tons of water escaped the system.
The Nuclear Regulation Authority told the news agency that the incident was equivalent to "Level 0" on the International Nuclear and Radiological Events Scale (INES), but did not give an official rating.

TEPCO would not immediately report on the conditions of the six workers exposed to the water following the incident.
Earlier this week a worker accidentally switched off a water pump used to channel water into the reactor building.
Leakages of contaminated water have been plaguing Fukushima in the latest months as TEPCO fails to prevent radiation from being released into the environment.
The Japanese government, which has been criticized for turning a blind eye of the problems, has recently pledged to lean in and tackle the crisis. On Sunday Japanese Prime Minister Shinzo Abe admitted that his country needs foreign knowledge and expertise to deal with Fukushima disaster.
The power plant was disrupted in March 2011 by a massive earthquake and tsunami, resulting in one of world's worst-ever nuclear accidents. Three reactor cores at Fukushima have melted down and need to be cooled down constantly to avoid possible catastrophic escalation.
You can share this story on social media: