"I'm watching you!" – FSB to Skype, Gmail, Hotmail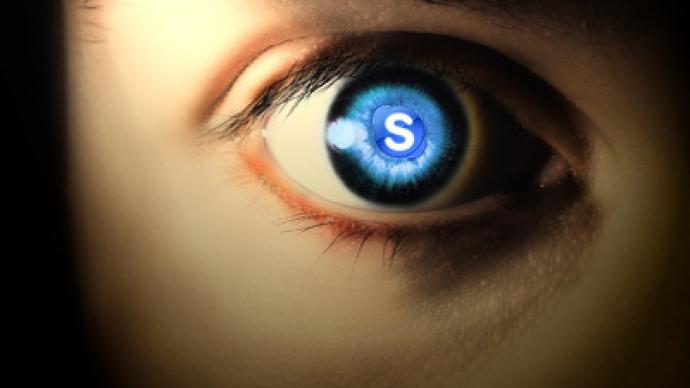 Russia's Federal Security Service, the FSB – successor to the KGB – says that the popular communication services Skype, Gmail and Hotmail pose a potential threat to the country's national security.
"The uncontrollable use of such services may result in a large-scale security threat to Russia," Aleksandr Andreyechkin, Chief of the FSB Center for Information Protection and Special Communications, said on Friday, Interfax reports.He was speaking at a session of the Government Commission for Federal Communications and Technological Aspects of Computerization, which decided to set up a mixed working group that would assess potential risks posed by foreign encriptions in public networks and come up with appropriate proposals for the Cabinet of Ministers.The primary concerns of Russia's security service are the foreign encription algorithms used in Skype and other applications. Also, because the control of their Internet-traffic is directed from foreign servers, such applications can easily be used by various extremist organizations, Andreyechkin explained at a session.Most of the discussion was held behind closed doors. However, according to the Deputy Minister of Communications Ilya Massukh, it was heated, and opinions were divided.The FSB was pressing, though indirectly, for a complete ban on such services Massukh said according to Itar-Tass. With all that, Massukh assured journalists after the session that restricting access for Russian citizens to either of these services was not on the agenda."In the Ministry of Communications we are against any bans for our citizens," Itar-Tass quoted him as saying. "Instead, other encription algorithms should be offered, but they must be free of charge."The mixed working group, which may include various governmental authorities as well as representatives of the national communication operator Rostelecom, is expected to propose ways to regulate the use of foreign applications such as Skype in order to avoid a complete ban on their use by October 1.
Reaction from Kremlin
Meanwhile, the Kremlin was not in a hurry to support the FSB initiative. According to RIA Novosti, referring to an unnamed source in the presidential administration, the concerns expressed by Aleksandr Andreyechkin are his own opinion and do not reflect the policy of the Russian state.
Reaction from government
The FSB proposal to ban Skype and Gmail has once again unveiled the conflict between the Kremlin and the government. Prime Minister Vladimir Putin's aide Dmitry Peskov has emphasized the importance of the position of FSB officials and dismissed public opinion that the real motive behind the initiative is to ban Russian citizens from accessing communication services which are difficult to control.The initiative to ban Skype and Gmail is the official position of the FSB and not just the personal opinion of one of its representatives, Dmitry Peskov told online newspaper Gazeta.Ru, referring to the comment from President Dmitry Medvedev's administration."FSB representatives do not make personal statements. Of course it is the position of the service, and it is carefully substantiated," Gazeta.Ru quoted him as saying.
Reaction from State Duma
Gennady Gudkov, Deputy Head of Russia's State Duma, believes that Russia can establish co-operation with foreign manufacturers of electronics and software, including those involving such sensitive issues as encription."Restricting civilian rights would be wrong. We must find other ways to control the transmission of data," RIA Novosti quoted him as saying.Gudkov agreed, though, that some applications may pose potential risks."Undoubtedly, any technological solutions which have complex encription may bear the possibility of being used by destructive forces. The risk exists," he said.However, he pointed out that most Internet search engines have their own applications for telecommunications. "You close some – others will replace them. You can't close the entire Internet," he added.Also, Gennady Gudkov stressed that all the services mentioned are very popular in Russia, and banning them would make the lives of many people miserable."Many families are separated by state borders. They use video-calls on Skype, and we mustn't make their lives miserable," he explained.The decision to establish a working group was the right one, Gudkov concluded.
Google: open for co-operation
Meanwhile, Google says it is ready to share information with Russian law-enforcement authorities, though, according to the company, such requests have not yet been received."Google Inc. is committed to using the most advanced means of protection of its users' information and co-operates with law-enforcement authorities in case unlawful content is revealed," Interfax quoted the company representative Alla Zabrovskaya as saying.At the same time, Google Transparency Report, which registers requests by various authorities to disclose information on some users or remove certain materials, states no such requests from Russia have been registered during the first six months of 2010. To compare, for the same period Google received 4,287 requests from the US authorities, 2,435 from Brasil and 1,430 from India.
FSB clarifies
Later on Friday the Federal Security Service clarified that it did not propose to ban Skype or Gmail, it had only "expressed concerns", Gazeta.ru reports."There were no suggestions or demands from the FSB side at the session of the Government Commission for Federal Communications and Technological Aspects of Computerization to limit access for civilians to these services," Interfax quoted the unnamed source in the FSB.According to the same source, "some servers provide services outside the legal framework, national legislation.""In this regard, a solution to the problem has to be found within the commission framework, in order that the functioning of such services on the territory of Russia would comply with its national legistation and international practice. Ordinary civilians will not experience any inconveniences," the statement said.Russia is not proposing or projecting any measures to limit access to Skype or Gmail services in Russia, stressed the FSB spokesman. "On the contrary, technology development is a natural process, which should be facilitated," he said.
You can share this story on social media: