From Baghdad to Kiev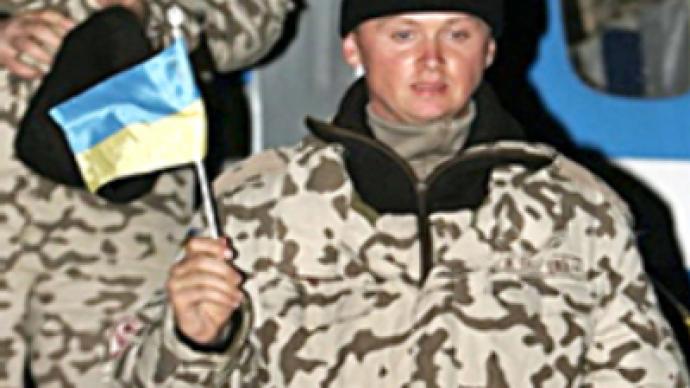 Ukrainian military officer and journalist Dmitri Timchuk spent more then a year in Iraq with the Ukrainian troops stationed there. RT is the first to publish his observations of daily life in the country in English. (Part X)
Leaflets for the illiterate (Part IX)
Our officers working at the Centre-South Division HQ in Babylon have little time to examine local sights. The division, comprised of representatives of 15 countries, controls three major Iraqi provinces: Wasit, Babil, and Karbala. The Polish contingent is the strongest with 2,400 people, and Ukrainians have the second biggest with more than 1,500 people. Previously, the Spanish used to be the second most numerous, but Spain pulled out its troops from Iraq after the attacks in Madrid. Which 'helped' us in a way.
Says Colonel Vadim Hanin, aide to the commander of the Ukranian contingent (unlike the brigade HQ in Al Kut, contingent command is stationed in Babylon):
"At first, the attitude towards our officers was cautious, for Ukraine is not a NATO member. They were only assigned to lower positions regardless of their rank. But when the Spaniards pulled out, commanders had no choice but to appoint Ukrainian officers deputy commanders and even commanders of units within the division's headquarters. Our men performed so well that even after rotation, when fresh forces from Poland and other NATO countries arrived, they were assigned under the command of Ukrainian officers."
Ukrainians admit that the style of working in the NATO is very different from what's found in the Ukraine and other ex-Soviet armies. First of all, in our armed forces superiors regulate all and every aspect of their subordinate's work through countless orders and instructions and initiative is not welcomed. Our commanders only have to follow orders without much left for them to decide. In NATO, it is different: here, subordinates are supposed to know what's going on around them, and superiors only have to fulfil real requests formulated by army units. And another thing is that there is no probation period before taking a position. Nobody cares if an officer has the required experience for the assignment, and nobody gives him any time before getting started. An officer is fully responsible from the moment he receives an assignment. Well, our men never failed.
Mementos
It is morning as we leave Babylon in a six-APC convoy. One hour into the journey, we pass several block houses bristling with machine-gun barrels and several rows of 4-meter-tall concrete fences. The ubiquitous concrete slabs are laid out in a checkerboard pattern so we must zigzag around them. It is a safety measure against suicide bombers in explosives-laden cars. Finally, we are at Scania, a base for the coalition forces.
This "safe harbour" is now home to tens and hundreds of enormous refrigerator trucks with food and trailers with equipment. From the bas, APC-guarded convoys coming from Kuwait spread across Iraqi provinces, carrying supplies for camps.
Now we have to wait for American trailers with our Ural trucks. They are coming from Kuwait, where our equipment is brought by ferries from the Ukraine. Urals are good trucks, but they are military-spec vehicles more suited to ploughing through rough terrain than blasting along the excellent Iraqi highways (which are perhaps the only thing we can envy in Iraq). On the other hand, American trailers shoot along at more than 100 km/h. Our convoy will also include several refrigerators marked "Logistic" (which means 'supply' in NATO speak), which carry food for the Delta camp.
While the convoy is being put together, our guys and American drivers begin taking pictures in front of our APCs and American trucks with skulls and cross bones instead of number plates (exotic!). A cheerful American blonde in uniform joins our guys for a photo shoot. They shun her at first, as nobody wants to deal with possible harassment charges that may follow. However, the girl hugs our colonel and poses, laughing, for a photo. As everybody rushes to capture the moment, someone asks the colonel who 'falls victim' to the American girl:
"What's your wife going to say? That's a pic you're going to hide for the rest of your life!"
Everybody laughs, including the Americans, who obviously didn't understand a word but laugh for company's sake.
Soon comes the order 'Aboard!' and the convoy sets off on the road. It's hot outside and even more so in the APC since the armour heats up real quickly under the scorching sun. Everyone is looking forward to getting to the "near and dear" Al-Koot and "Delta", where they can finally unload the weapons and take off their body armour… and find out that our camp in As-Suveira was shelled three times that day…
School for girls
The purpose of the recent trip to Al-Kut was to hand over a school for girls to the local authorities. We drove by the city elevator, the first place the guard-subdivision of the Ukrainian contingent were deployed. The elevator is right by the Tigris, which makes it not only a strategic object of the province – it also offers an excellent view from its rooftops on "Delta" camp base on the other bank of the river. This, in turn, means that it's an ideal place for snipers to easily target our troops' location.
The School for girls had just been rebuilt and we came to attend the opening ceremony. Like almost any project in Iraqi it's funded by Americans. But it seems like neither pupils nor teachers really care about this. The girls, as far as I can remember from my own school experience, are very happy to be sitting at their school desks. The teachers are just as pleased and you can see why: female teachers in the present-day Iraq some of the few who have a real chance to get a job. Moreover, with the salary of about 100 US dollars (during Hussein's regime, an average salary for a teacher was only 7 US dollars!) they are considered to be fairly well-off in comparison with many other Iraqis. What's interesting is that the pupils, when they are at their desks, don't put their arms on the tables, like we do in our schools – they fold them across their chest.
The arab girls are delighted to pose in front of a camera. In general, Arabs worship cameras ("worship" is what best describes their attitude to it) and love to pose. If you walk down the street with a camera, be prepared that not only kids, but even quite respected men in "kefia" would ask you to take a picture of them. The reward is to see their picture on the display of a digital camera – their joy knows no bounds. There is a string attached – it doesn't work this way with married women – you can get into trouble with the husband or the mahrem (the relatives) of the "disgraced" woman even for one candid shot. But this rule doesn't apply to the girls.
To Kiev, on foot
The moment of departure is long-awaited by everyone – the countdown begins several weeks before. The pull out of soldiers and officers, who are done with their tour of duty, lasts for over three weeks. In the eyes of those, who are staying – there is obvious envy and impatience. I'm supposed to leave with the last plane, going straight to Kiev (as a rule, planes land in Sknilov airport in Lvov, and people then go home by train). I suggested to an officer, who was supposed to fly out a day earlier, to stay for one more day and then fly out together – since he needed to go to Kiev, but if he chose to fly earlier, he would arrive to Lvov. Horrified, he replied: "No way! I will not stay here another day – even if I have to walk to Kiev on foot when I get to Ukraine!" Half a year away from the family in an absolutely foreign country does tell.
Although there are those, who remain here as part of the newly arrived brigade – of course, this is purely voluntary. They are few in number: about 30 people, although, from what I know, at least 200 expressed their desire to stay.
The military command allows a second tour mainly for officers, whose service is based on their experience of communicating with the locals and on personal contacts. Such people are really needed here, so that when new people arrive, they don't have to start from scratch (it might take quite some time for them to get into the groove). The command is not keen to allow soldiers an extra tour: the moral and psychological condition of those, who are here, deteriorates and people get psychologically tired. But new Ukrainian soldiers, as we've noted before, adjust quite easily.
Bye, "Delta"!
The outgoing peacekeepers are finished with packing a week before the actual departure, then comes the turn of the nervous anticipation. Everyone leaving, without an exception, wears an American desert field dress uniform. To me, that seemed at least strange – they are going home to Ukraine in a foreign uniform?
Everything turned out to be much more prosaic, without any politics involved. Here is the thing: our troops get three sets of "safari" field uniform for the whole time of their term. It's fine for half a year of service in Ukraine. But not so in Iraq. First of all, the uniform needs to be washed all the time. Secondly, it gets even more worn and thinned out under the necessary bullet-proof vests, from pistol holsters on the sides and from gun straps. And half a year later – this uniform is completely worn out and have been mended time and time and time and again. Obviously, it's not that great to bring "ragamuffins" home. Americans stepped in providing the new uniforms.
Several days before sending the last plane to Ukraine, the mine locators made a dangerous discovery. Not far from "Delta", a disguised mortar emplacement of the militants and storage of about 200 bombs was discovered. Apparently, the plan was to shell our base. It's not a rare find here, but those who are getting ready to go home, get nervous. And it's not even about being concerned for their lives. If at least one bomb explodes on the runway, all flights will be cancelled straight away. And then – when and from where with the guys be able to go home turns into a big question.
The departure is celebrated modestly: there is not a lot of alcohol here, which is obvious. The morning brought a cruel disappointment – during the night, a dust storm blew up, and all flights were cancelled. People, who are already in Ukraine in their minds, get nervous – such a storm can last for up to a week, especially in the autumn. Every two or three hours, a rumour passed about a plane that departed from Ukraine. But it turns out to be a mean joke each time. Everyone is on pins and needles.
Finally, a day later, we see our plane in the sky of Al-Koot. Even though the plane isn't due to depart until 9am, everyone is already at the aerodrome at 7am. The last call, checking the names on the departure lists and quick boarding. When the landing wheels of our IL-76 leave the runway everyone shakes hands. 12 more hours, a fuelling stop in Baku – and we are in Kiev!

Story and photos courtesy of Dmitri Timchuk
You can share this story on social media: