13 undercover French army officers seized in Syria – report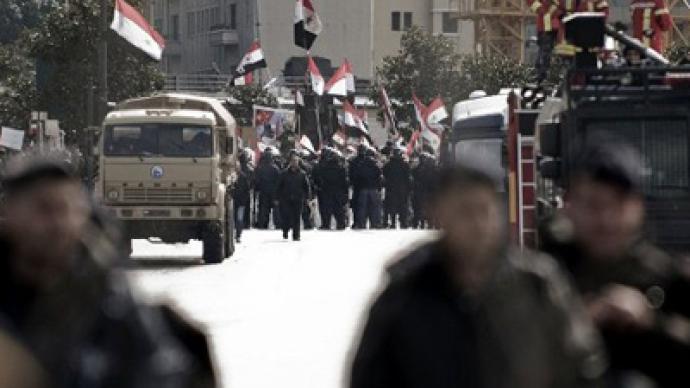 Thirteen French officers have been captured by the Syrian Army, according to Lebanon's Daily Star newspaper. It claims it received the information from a pro-Syrian Palestinian in Damascus.
According to the source, the officers were taken captive in the city of Homs – the heart of the internal conflict between forces loyal to President Bashar al-Assad, and insurrectionists – and are being held in a field hospital there. The source claims the French and Syrian governments are locked in negotiations over the fate of the men.If confirmed, it would be an embarrassment to France.  However the French Foreign Ministry has categorically stated that there are no French soldiers in Syria. Perhaps more intriguingly, the Ministry of Defense has not issued an outright denial, saying instead that it has no knowledge of the situation.Official Damascus has similarly refused to comment.Despite imposing ever-tougher sanctions on Syria, the West has consistently denied that it has troops on the ground, although there have been occasional rumors. There have also been several reports of NATO powers supplying arms to the rebels.If the information is proven to be correct, however, it will give rise to speculation over what exactly the French officers were doing in the war-torn country.The most obvious assumption is their involvement in the rescue of French journalists last week. Reporter Edith Bouvier and three other Westerners were holed up in a journalists' compound in Homs which came under heavy fire before a special operation rescued them. But in an interview earlier today, one of the journalists, photographer William Daniels, denied this: "I never saw any French troops during this operation. We were only with Syrians from the rebel army. We owe our escape to them."More speculatively, the French troops could have been giving military guidance to the rebels, who  floundered when fighting the better-organized army forces. While this is not unprecedented, the French officers have no international mandate to participate in this internal conflict.Although at the moment none of this can be independently verified, any potential negotiations will be made more difficult by the fact that France said last week that it is closing its embassy in Damascus, symbolically severing diplomatic relations with the al-Assad regime.
You can share this story on social media: