Freedom House report blames Russia for lack of liberties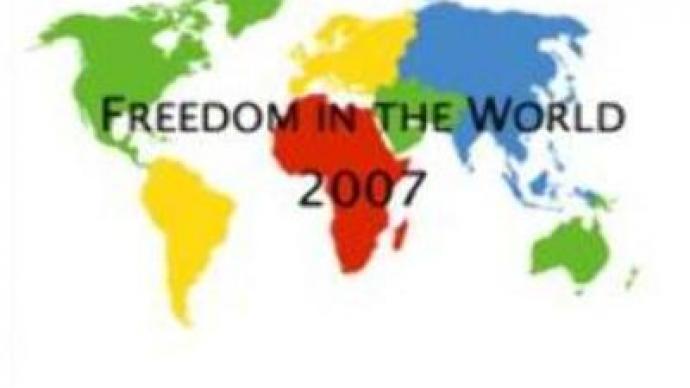 Russia's record on political rights and civil liberties has been severely criticised in a report from a US-based NGO. Freedom House has published its annual survey, and put Russia alongside the likes of North Korea, Togo and Libya.
Freedom House ratings measure political rights and civil liberties in different countries on a simple scale from one to seven. The authors say the studies reflect global events. Low marks of 6 and 5 are given to Iraq and Afghanistan, both torn apart by sectarian violence and terrorist attacks. But Freedom House classifies India as being much more democratic than neighbouring Pakistan, without stating why.The group claims to be an independent non-governmental organization that supports the expansion of freedom in the world, although it has received grants from several U.S. agencies, and the State Department.But why has Freedom House put Russia alongside Togo, Rwanda, and Libya? And what is it that's allowed Syria and Zambia to move up the freedom charts while Russia and Somalia continue their annual slides?Robert Bridge, the managing director of the English-language daily, Moscow News says many aspects of the report are far-fetched, as his personal experience suggests.
"I don't think people from Freedom House personally get out of the house much. If you take a trip to Europe, you see Russians everywhere. Where do you see North Koreans?"
he asks.The survey blames the Russian government for what's being seen as an overall decline in democracy. It says the country's leadership is cleaning the media slate, as well as putting pressure on the NGOs. Nevertheless, human rights activists in Russia itself are critical of the report.
"This organization allows itself to be used as a political bludgeon. They are using human rights as an excuse to put pressure on the countries that are not behaving well according to the standards of the American Hawks,"
says Ella Pamfilova from Human Rights Council.But it's not only in Russia, that the Freedom House methods are being criticized. The Financial Times compares the report's role with Marxist-Leninist pronouncements on the progress of socialism in the world.
"There is a nationalism that treats the U.S. as the embodiment of democracy and support for America as a key index of virtue. The U.S., of course, invariably gets top marks for political rights and civil liberties. Meanwhile, the "freedom" rating of other countries shows a marked tendency to move up and down according to the degree of their alliance with the U.S. and their commitment to a U.S. version of unrestricted capitalism,"
the paper states.So what does the Freedom house report really reflect? Russia Today tried to contact the organization in Washington to ask this question. The request was respectfully declined, Freedom House say they doubt this news channel's integrity.
You can share this story on social media: