France, following US and UK, applies brakes on Syrian war rhetoric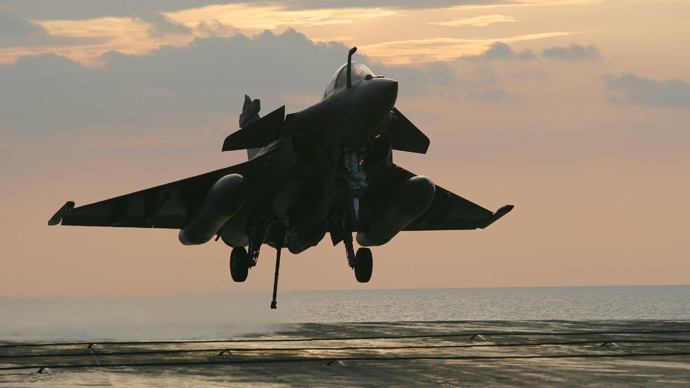 Following Washington and London's lead, French President Francois Hollande said he would wait for a parliamentary vote before committing France to a military attack on Syria.
The announcement comes as NATO countries reconsider whether to take military action against the Syrian government over a chemical weapons attack that killed hundreds of people in Damascus, amid growing public opposition to a US-led military intervention.

Paris backed off immediate military action against Syria after MPs in the UK House of Commons defeated Prime Minister David Cameron's proposal that British forces take part in military action over the alleged use of chemical weapons by Assad's government. The war vote – the first lost by a British prime minister since 1782 – was followed by US President Barack Obama saying Saturday that he would wait until he receives authorization from the US Congress before taking military action on Syria.

Surprisingly, given France's past hesitation to join in military adventures, Hollande has been the most vocal supporter of a US military operation, which Obama said would not include "boots on the ground."

The French president, unlike the British prime minister, does not require permission from the country's parliament, the National Assembly, to order military action.
Hollande's Socialist government was quick to jump on the anti-Assad bandwagon, accusing the Syrian leader of carrying out the attack, with his foreign minister saying that information pointed to Syrian government forces being behind what it called a "chemical massacre."
"All the information at our disposal converges to indicate that there was a chemical massacre near Damascus and that the Bashar regime is responsible," French Foreign Minister Laurent Fabius said on August 24.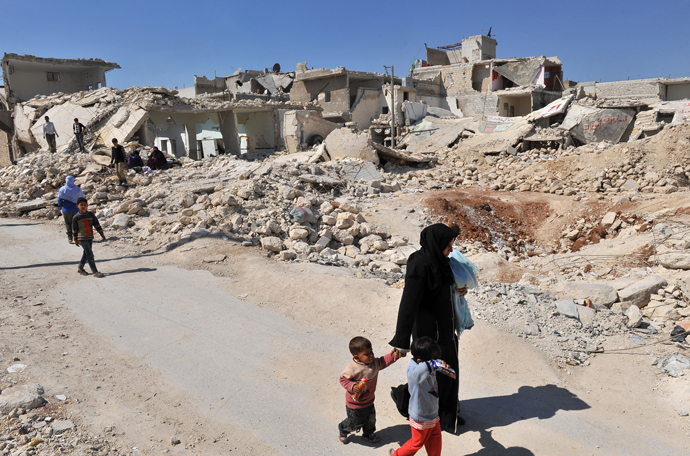 Russia has criticized Western nations for jumping to conclusions over the attack, however, with President Vladimir Putin saying on Saturday that it was "utter nonsense" to believe that the Syrian government would use chemical weapons on its own people at the same time as UN weapons inspectors were in the country.

Before delivering his speech on Syria outside the White House, Obama explained his decision to Hollande in a telephone call, an official in the French president's office told reporters.

French Interior Minister Manuel Valls said on Sunday France would not act alone in Syria but would await a decision by the US Congress.

"France can not go it alone," Valls told Europe 1 radio. "We need a coalition."

French prime minister, Jean-Marc Ayrault, is scheduled to meet with the heads of the two houses of parliament and the opposition on Monday to discuss the Syrian situation in the run-up to a parliamentary debate on Wednesday.

Russia has warned that Washington's apparent plans for military intervention in Syria would only serve to increase the violence now gripping the country.

"Any unilateral use of force without the authorization of the UN Security Council, no matter how 'limited' it is, will be a clear violation of international law, will undermine prospects for a political and diplomatic resolution of the conflict in Syria and will lead to a new round of confrontation and new casualties," Russian Foreign Ministry spokesman Aleksandr Lukashevich said. There was a lack of proof that the Syrian government used chemical weapons, he added.  

Egypt's Foreign Minister, Nabil Fahmy, has said that his government is against military intervention in Syria.
 
"Egypt rejects military intervention in Syria, as we believe a political solution is the only way out for the crisis there. Egypt supports the Geneva-2 talks," Fahmy told reporters in Cairo on Tuesday, citing Chapter 7 of the UN charter, which provides for the use of military action if it is proven that a country has become a danger to international peace and security.
 
UN Secretary-General Ban Ki-moon said that he had discussed with Obama "how we can expedite the process of investigation" into the attack, but added: "I have also expressed my sincere wish that this investigation team should be allowed to continue their work as mandated by the member states."
Meanwhile, NATO's secretary general, Anders Fogh Rasmussen, said Friday that the military alliance has no plans to participate in a military attack on Syria, a move that would require the approval of all 28 member countries.

You can share this story on social media: