Friendly advice: France, UK to command ousting of Assad?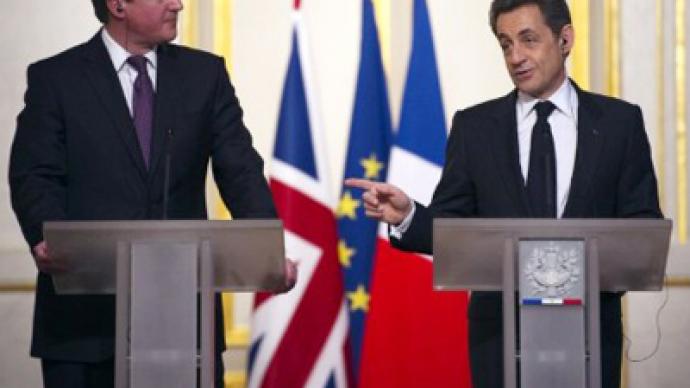 Coordinating help for Syrian opposition was high on the list in Paris talks between the French and British leaders on Friday. Anti-government troops lack unity and training, so sending military advisors could change the situation, the sides agreed.
The leaders of the two countries spoke of the need to find new ways of getting rid of "brutal dictator" Assad, who is "butchering and murdering" his own people."We have to put all the pressure we can on Bashar al-Assad to make him stand down," British Prime Minister David Cameron said during the press conference on Friday. "I want us to go on working and thinking and asking ourselves what more we can do."French President Nicolas Sarkozy believes that the Syrian opposition needs outside assistance in coming together for joint action."The Syrian opposition has to unite and organize to help us help them," Sarkozy said at a press conference. "We never could have done what we did in Libya without the NTC taking the initiative."Behind the scenes, Cameron and Sarkozy are believed to have discussed further ways of helping the armed branch of the Syrian opposition, the Free Syrian Army (FSA).Both countries said officially they do not plan to provide arms or troops to support the uprising. They pledged they would limit their aid to diplomatic support and help to human rights groups in documenting alleged atrocities.However the Syrian opposition remains disorganized and divided. Some British cabinet level officials believe a more substantial support of the FSA is needed, possibly organizational in nature, according to Guardian newspaper.Britain and France may send military advisors to teach the Syrian insurgents combat tactics, communication and other skills needed to attack governmental forces. Earlier unconfirmed reports said that British military are already on the ground in the besieged city Homs doing the job.
With a little help from friends
The summit in Paris comes ahead of the fist meeting of the Friends of Syria group in Tunisia on February 24. The international team aims to further isolate Bashar Assad's government and whip up support for the opposition.Britain and UK were the champions in the last year's bombing campaign in Libya, which ended with the ousting of the country's leader Muammar Gaddafi and transition of power to the rebels. They used their Navy and Air Force to attack pro-government forces, sent military advisers to the rebels and even supplied them with arms in violation of the UN embargo. The operation was called the biggest success in NATO history.A group called Friends of Libya, which included France and Britain, was used for diplomatic support of the Libyan opposition and coordination of the NATO operation. It also handled the post-war settlement in the country, which included confirmation of Gaddafi-era contracts with members of the group, handing over of seized Syrian assets to the new government and distribution of contracts for rebuilding the country.
You can share this story on social media: