EU rejects French call for intervention in Syria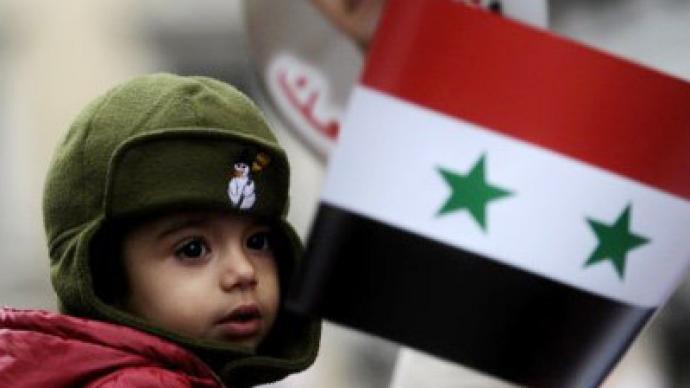 The EU has stopped short of endorsing a French proposal for EU-backed humanitarian corridors that would allow aid groups and observers into Syria.
France has called for a "secured zone to protect civilians" in Syria. It is the first time a major Western country has suggested international intervention in the country. Speaking on French radio on Thursday, foreign minister Alain Juppé said he was speaking with partners in the United Nations, US Secretary of State Hillary Rodham Clinton and the Arab League about the humanitarian corridors.Alain Juppé says the situation in Syria is "no longer tenable" and accused the regime of Syrian President Bashar Assad of "repression of a savagery we have not seen in a long time."On Wednesday, after a meeting with the Syrian National Council leader Burhan Ghalioun, Alain Juppé described the Council as a "legitimate interlocutor" and said France would seek formal recognition for the group from the Arab League and other allies."It's about the political actions that we continue to help the Syrian National Council with. It's upon request from the Syrian National Council that, with our European partners, we will examine the possibility of launching humanitarian initiatives in order to relieve the population from the considerable pain it's enduring," he said.Ghalioun said the Syrian National Council was seeking co-operation with countries in Europe and the Arab League, "to provide serious protection for civilians and to stop the killing that has been taking place for the past eight months."He added that he hoped to secure a UN resolution "to protect civilians and let observers enter Syria for the sake of stopping the killing."Meanwhile, three American students arrested in Cairo have been released, Paula reports.  The Paris Institute's John Laughland suggests that despite Western powers saying they are only trying to get humanitarian aid into the country, their actions are aimed at bringing down the regime in Syria. He called for "Russia and the world in general" to regard "this initiative with the greatest possible skepticism." "I would warn against any international presence," he told RT. "If a humanitarian corridor is opened, it will allow, among other things, secret service agents to penetrate Syria. They will presumably be there with the goal of overthrowing the regime."
An uprising against the rule of President Bashar al-Assad started eight months ago. Since then, an estimated 3,500 people have died in clashes with government forces. Meanwhile, members of the Arab League have gathered in Cairo to hold talks on the ongoing violence in Syria after President Bashar Assad failed to end his crackdown on anti-government protesters.Earlier this month, Arab League foreign ministers suspended Syria from the group in response to its violent suppression of anti-government rallies.
You can share this story on social media: