French government bans GM maize MON 810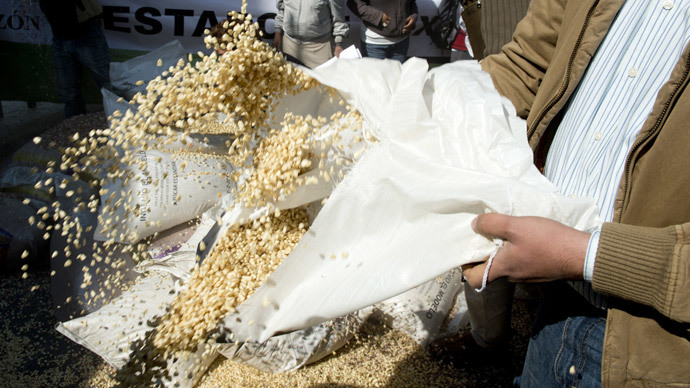 France's agricultural ministry on Saturday banned the sale, use and cultivation of Monsanto's genetically modified maize MON 810, after France highest court twice previously struck down similar measures.
Currently the MON 810 is the only insect-resistant maize authorized in the EU. But France insists that GM crops pose significant environmental risks. The current socialist government of Francois Hollande, like the conservative one before it, has opposed supporting GM crops in light of public suspicion and protests from environmentalists and farmers.
The decree by the agricultural ministry is timed to prevent farmers being able to sow GM maize before a draft law is debated on April 10, which will seek to permanently ban the planting of any genetically modified crops. Maize is sown in France in the second half of March.
"The sale, use and cultivation of varieties of maize seed from the line of genetically modified maize MON 810 is banned in the country until the adoption, on the one hand, of a final decision, and secondly, of [EU] community action," said the statement, which was published Saturday.
The Ministry of Agriculture considered that emergency legislation was needed, "given the proximity of the beginning of the planting season."
Earlier, EU countries failed to agree on whether to approve a variety of GM maize, Pioneer 1507, produced by DuPont and DowChemical.
In February 19 EU member states voted against authorizing the cultivation of the crop, but because of so-called comitology voting rules, their votes were insufficient to overturn the votes of bigger member states that were in favor of introducing Pioneer 1507.
This means that the European Commission will go ahead and approve the GM crop for cultivation, although individual countries, such as France, may introduce legislation to stop its introduction.
France is staunchly against their introduction and wants to overhaul EU rules on the issue. The UK argues that without GM Europe risks becoming "the museum of world farming" and Spain says its own farmers have to be able to compete with those not from the EU, many of whom are growing GM crops.
GM crops, though still unpopular in Europe, are widely grown in the US and Asia.
You can share this story on social media: