France is not responsible for civilian deaths in Mali strikes – Defense Ministry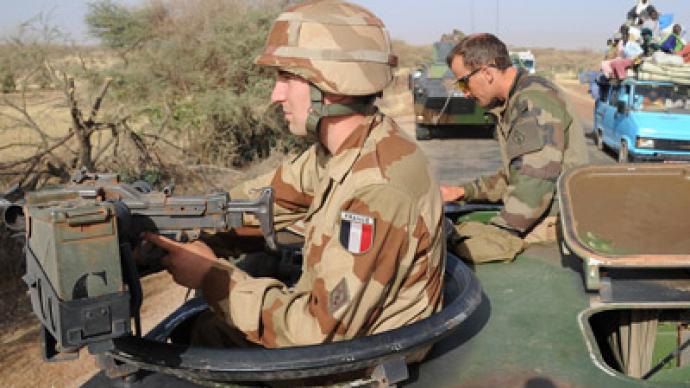 France cannot be held responsible for the deaths of civilians in Mali, a representative of the Ministry of Defense told RT. France denies reports of civilian casualties in military airstrikes, stating it has no evidence to support the claims.
Amnesty International has called on the French government to conduct a probe into reports of civilian deaths during the Mali campaign, which began on January 11. The organization claim at least five civilians, including a woman and her three children were killed during an offensive on the town of Konna.  Citing witness reports of a number of civilian casualties as a result of French airstrikes in the region of Konna, Rusia al-Yaum (RT Arabic) correspondent Khalid Gharabli asked French army spokesman Colonel Thierry Burkhard to comment."I have seen these allegations. It's crystal clear that there is no evidence, and the evidence I have is very comprehensive, that suggests civilians were killed during the strikes carried out by the French military in the region of Konna," Burkhard told RT. He elaborated, stating that if there were civilian casualties, there or anywhere else in Mali, France "cannot be held responsible" because there is no evidence that implicates its involvement.
Witness reports gathered by Amnesty say rockets fired from a helicopter struck the victim's house in the morning of January 11. There were no militant targets in the house or the nearby Mosque, also hit in the attack, but there were some Islamist fighters stationed at a junction 150 meters away, reported Amnesty.Bukhard categorically denied involvement and said that according to French intelligence the attacks that killed civilians were carried out at around 11am local time and French forces only began their assault at midday. He suggested that clashes between the Malian security forces and terrorist groups in the area were to blame."There were significant clashes between the Malian forces and terrorist groups, who were equipped with rocket launchers," informed Bukhard, adding "there is no evidence that suggests a [French] strike could have injured or killed civilians."
'Revenge killings'
Human rights groups have also drawn attention to the widespread reports of reprisal killings coming out of Mali as the French aid the Malians to wrest settlements from militant control. Bukhard confirmed these reports of "certain acts of vengeance against people who had supported terrorist groups since the beginning of their occupation in 2011."Amnesty International stressed in a report that the reprisal killings were not only being carried out by civilians and there were reports members of the Malian security forces were involved in revenge violence. Last week a group of three militants captured by the Malian security forces told AFP that they were tortured by soldiers, using techniques such as waterboarding.The three suspected militants were being held in an earthen cell in the remnants of a military camp in Timbuktu, according to journalists from AP who spoke to the men.The Human Rights Watch warned of more violations as the French and the Mali forces move northward."If they [French soldiers] witness such acts of revenge, they are obliged to intervene and report the incident immediately," said Bukhard, adding that the Malian army is actively working to stamp out reprisal killings. Burkhard did not, however, cite any cases when the French intervened.The French campaign in Mali is now in its third week, with approximately 4,000 troops deployed. France's Foreign Minister Laurent Fabius told press that Paris may begin reducing its troop presence in Mali from the beginning of March.
You can share this story on social media: