Foxconn fiasco: Apple supplier admits using child labor in China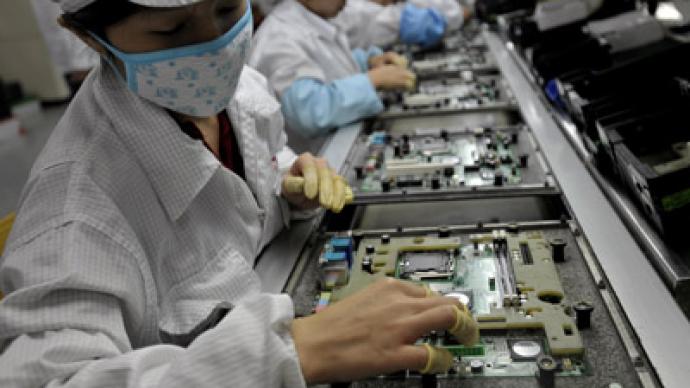 Foxconn, a major Apple supplier, has admitted to using underage interns in factories in China, employing children as young as 14. It's the latest in the string of scandals surrounding the company's activity in the country.
The violation was revealed during a Foxconn probe over various media reports, which said that interns from 14 to 16 were working at the plant in the eastern Shandong province for about three weeks.The company's administration admitted in a statement that their investigation "has shown that the interns in question … had worked in that campus for approximately three weeks."The employers were in fact breaching national law, which states the working age starts at 16.China's official Xinhua news agency, quoting an unnamed government official, reported that there were about 56 underage interns, and that they would be brought back to their schools.Taiwan-based Foxconn is the largest contract electronics maker in the world, constituting around 40 per cent of the global market and providing supplies for Samsung and Sony, as well as Apple.Spokesman for NGO China Labor Bulletin Geoffrey Crothall said in a statement that interns were a "cheap and convenient source of labor," which local vocational schools eagerly and easily provide for international employers.Foxconn, meanwhile, pointed out that they have found "no evidence of similar violations in any of our other campuses in China." However, the company representatives stressed that they "will not hesitate to take immediate action on any campus if any violations are discovered."Controversy has been stirring around the major electronics supplier since a series of suicides on their plants across China in 2010, which human rights activists blamed on tough working conditions.In May last year a blast at Foxconn's factory in Chengdu in south-west China killed two people and injured 16 more.On several occasions workers staged riots over living conditions for migrant employees at a Foxconn plants.Earlier this October, thousands took to the streets to rally over two labor disputes concerning product quality, and the demands that the employees work during a national holiday.In response to the outrage, the company has pledged to cut overtime to less than nine hours a week instead of the current 20 hours.
You can share this story on social media: