Foreign Interference in Turkmenistan affairs will do no good: Russian MP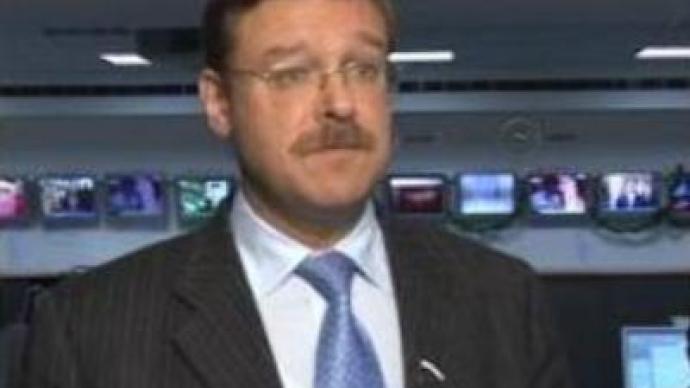 Konstantin Kosachev, Head of the State Duma Foreign Affairs Committee, in an interview with RT has warned against foreign interference in the internal affairs of Turkmenistan after President Saparmurat Niyazov's death.
"There is a big temptation for different countries to influence the situation, to push forward a leader who would be a good one for this or that country. To my mind Russia needs to do everything in order to keep these countries out of Turkmenistan, to let the people of Turkmenistan make a decision on their own destiny,"
the Russian MP said.
"Any leader of Turkmenistan supported by the people of that country would be a good one for Russia because good relations with Russia correspond to the national interest of Turkmenistan. On the opposite, in case for example the U.S., the EU or anybody else would try to import some opposition leader from Western Europe or the U.S. and arrange another revolution, imported revolution in Turkmenistan it'll be a great mistake,"
Mr Kosachev believes. Meanwhile Turkmenistan is observing seven days of mourning for Saparmurat Niyazov who died in the early hours local time on Thursday. News of the death of Turkmenistan's President has drawn reaction from around the world. Russian Foreign Minister Sergey Lavrov expressed his hope that the handover of power in Turkmenistan will occur lawfully.
"We expect that the transfer of power will remain within the framework of the law, and that there will be continuity in our bilateral relations,"
said Mr Lavrov. The Russian and German Foreign Ministers have called for a smooth political transition in the country. "Regarding the changes in Turkmenistan I can only hope that after the death of the president ways will be found to guarantee peaceful transition in the country," stressed German Foreign Minister Frank-Walter Steinmeier.
"I hope that influential personalities and groups will manage this with responsibility not only for their own country, but also for the whole region."
U.S. President George W. Bush expressed his sympathies over Mr Niyazov's death, adding America is ready to expand relations with Turkmenistan and help the government provide justice and opportunity for its people. In his condolence message Afghan President Hamid Karzai said Mr Niyazov had played a key role in strengthening relations between Afghanistan and Turkmenistan. Pakistani President Pervez Musharraf also conveyed his condolences, calling the deceased Turkmen president 'a great leader' whose visionary leadership was instrumental in raising the prestige and prosperity of Turkmenistan. On the other hand, some experts expressed skepticism concerning the handover of power in the country, which is based on the isolated character of the regime built by the late president. The Security Council of the country has decided the Deputy PM Gurbanguly Berdymukhammedov will be acting president. He also heads the state commission that organises the funeral ceremony. The country's leadership are reassuring their own population and the international community that no drastic political or economic changes are expected. Akmuhamed Velsapar from a Turkmen opposition organisation "Unity" said Niyazov's death opens the door for democratic reforms. "I think that everybody feeling responsible for the future of Turkmenistan will do everything they can to maintain peace and, most important, open way for democratic elections – both parliamentary and presidential," he claimed. "I think we could have a number of candidates from various parties plus there may be some independent candidates with no affiliation." The death of the Turkmen president raised concerns about the future of its energy contracts. Turkmenistan has huge reserves of natural gas, but lacks export routes to higher-paying countries in the West – selling instead to former Soviet neighbors. Last month the Mr Niyazov said his country had discovered a new gas field – with reserves of 7 TRLN cubic meters. That's more than double the size of Russia's Stockman field.
However, Turkmenistan has not made public the result of an international audit of its gas reserves. And this year it stopped publishing economic statistics in state media. Russia's Gazprom is the largest buyer of Turkmen gas. It will buy 50 BLN cubic meters annually until 2009 for $US100 per 1000 cubic meters.
You can share this story on social media: