Football fever: Russia looks to 2010 World Cup
Published time: 23 Nov, 2007 06:53
Edited time: 23 Nov, 2007 09:53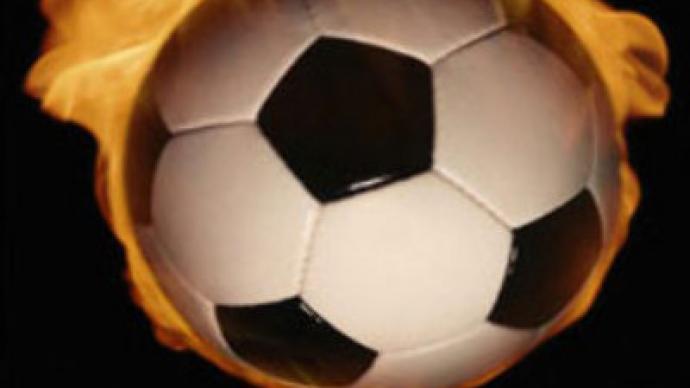 Russia's footballers will find out on Sunday who they'll play in the qualifying stages of the 2010 World Cup. The draw takes place in South Africa, the country hosting the tournament.
The draw takes place as Guus Hiddink's men revel in the afterglow of qualifying for Euro 2008. The players received a heroes welcome from fans when they landed at Moscow on Thursday. The team secured a place with a win over Andorra and England's defeat to Croatia.
Meanwhile, UEFA is reviewing the red card given to captain Andrey Arshavin during Russia's win. It is likely he will get a one-match ban.
But it did not stop him thanking those who had faith in the team.
"We are very grateful to our fans. I think few people believed in us but we are all grateful to those that did. We are grateful to everyone. We will see you next year," Andrey Arshavin told fans.
But it was not that easy at all. After collapsing against Israel on Saturday, Gus Hiddink's men seemed down and out. But on Wednesday night they came back from the dead.
They capitalised on England's failure to secure any points against Croatia in London. As expected, they beat minnows Andorra – but only by a single goal. The significant result came from England as the home side lost 3-2 to Croatia at Wembley Stadium.
For the first time since 1984 England misses out and Russia make it through to next year's finals in Switzerland and Austria.
Russia's and Guus Hiddink's prayers were heard
More than a hundred fans travelled to Sheremetyevo to give the Russian players a warm reception. The players, on the other hand, were grateful to the fans and their Croatian counterparts.
"From now on all planes from Croatia should land at Sheremetyevo for free. We are very grateful to our fans. I think few people believed in us, but we are all grateful to those that did. We are grateful to everyone. We'll see you next year," skipper Andrey Arshavin said.
'Real sportsmanship' praised
Russia's striker Dmitry Sychev scored the only goal of the game on 39 minutes. Guus Hiddink's men also failed to score from the penalty spot, when Denis Kolodin's shot was saved by the Andorran goalkeeper.
As tension mounted in the dying minutes of the game, Russia's captain Andrey Arshavin was shown a red card, but his team managed to hold on for the all important 1-0 win.
Meanwhile, there was also plenty of tension in London where England only needed to avoid defeat in their home game against Croatia to book a place at the finals.
However, it was not to be.
Croatia took an early 2-0, which they held on to until half-time.
Despite England coming back to 2-2, with less than 15 minutes to play, a long-range strike from Croatian substitute, Mladen Petric, ruined their hopes.
The final score of England 2 Croatia 3 meant that England were out and Guus Hiddink's men were through.
"It is a real miracle which could only happen to Russia," Sychev exclaimed while Hiddink praised the Croats for showing 'real sportsmanship'.
Tokens of Russia's gratitude
Hours after the drama at Wembley, England coach Steve McClaren and his assistant Terry Venables were sacked by the Football Association.
Luxury gifts on the way
Croatia's victory means four lucky players will get high-spec cars from Russian businessman Leonid Fedun. He offered the brand new Mercs if the team succeeded in helping Russia reach the Euro 2008 finals.
Fedun said the goalkeeper and three best players would get them. It's likely that Croatia's three goal-scorers will soon be handed the keys.
However, Fedun's press secretary said it's up to the team and the Croatian Soccer Federation to decide who'll get the cars. Other solutions include selling the cars and sending the money to charity or splitting it between all of the players.
To watch all the goals from Andorra – Russia and England – Croatia games, please, follow link.