Twittkrieg: 'Nazi' account closure Twitter's first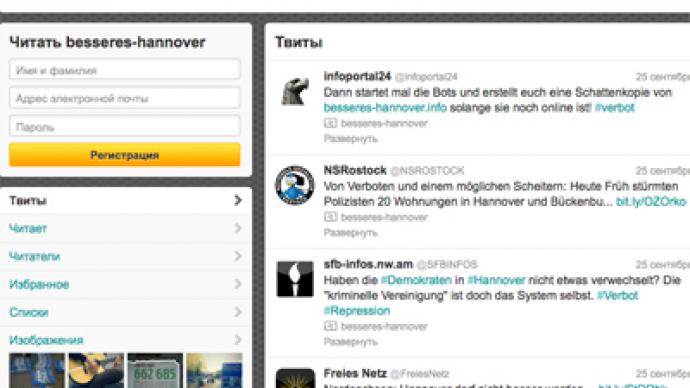 For the first time, Twitter has censored one of its accounts in response to a government request. The account in question belongs to a neo-Nazi group in lower Saxony deemed illegal by the German government.
"We announced the ability to withhold content back in [January]. We're using it now for the first time re: a group deemed illegal in Germany," Twitter general counsel Alex Macgillivary tweeted on Thursday. "Never want to withhold content; good to have tools to do it narrowly & transparently," he tweeted separately, including a copy of the official government letter requesting that the account of "Besseres Hannover" be discontinued, and that any requests for subsequent accounts from the group be refused. "The Ministry of the Interior of the State of Lower-Saxony in Germany has banned the organization 'Besseres Hannover''. It is disbanded, its assets are seized and all its accounts in social networks have to be closed immediately. The Public Prosecutor [State Attorney's Office] has launched an investigation on suspicion of forming a criminal association," the official letter read.While the account is and will continue to be visible on Twitter to users outside Germany, (calling itself "the national information portal from Hannover"), the website link is no longer functioning.The group was designated in July 2012 by the Lower Saxony Ministry of the Interior as "the most active neo-Nazi group called Lower Saxony," as official investigations into inciting racial hatred were launched. To date, about 20 criminal cases pertain to group members.
#controversy
Twitter made headlines in January when it announced it was going ahead with a plan to censor certain accounts if local governments deemed them offensive or illegal. "As we continue to grow internationally, we will enter countries that have different ideas about the contours of freedom of expression. Some differ so much from our ideas that we will not be able to exist there," Twitter wrote in a blog post on January 26. In a moment of foreshadowing, Twitter even mentioned the neo-Nazi example."Others are similar but, for historical or cultural reasons, restrict certain types of content, such as France or Germany, which ban pro-Nazi content.""Starting today, we give ourselves the ability to reactively withhold content from users in a specific country – while keeping it available in the rest of the world. We have also built in a way to communicate transparently to users when content is withheld, and why," Twitter wrote, also promising to censor material in a transparent and responsible way.The decision was greeted with widespread controversy, with several prominent activists denouncing the move, as well as law experts praising it. Reporters Without Borders sent a letter to Twitter Executive Chairman James Dorsey expressing their dismay at the decision. "We are very disturbed by this decision, which is nothing other than local-level censorship carried out in cooperation with local authorities and in accordance with local legislation, which often violates international free speech standards," the letter read. "Twitter's position that freedom of expression is interpreted differently from country to country is inacceptable. This fundamental principle is enshrined in the Universal Declaration of Human Rights."
You can share this story on social media: