Fighting teenage alcoholism not easy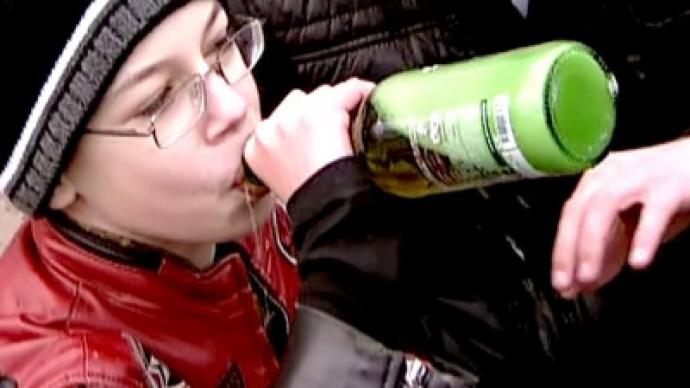 Underage alcoholism in Russia is becoming widespread, as it has never been easier for teenagers to buy booze without being asked for ID.
There are no stringent punishments in place for selling alcohol to minors, and many store owners are willing to cash in on youngsters' health."The problem is that kids start drinking around 14-15 years of age regularly," said Evgeny Bryun, the Health Ministry's chief narcologist. "Dependency takes a few years to form, so when they're brought to us, the process has already been formed, and we cannot always pull them out of this tough situation."According to NGOs, there are anywhere from 20,000 to 60,000 teenage alcoholics in the country.And many blame the fact that it is far too easy for a teenager to buy alcohol. The legal drinking age in Russia is 18 years old. So, is it really easy for a teenager to get his or her hands on a bottle of hard liquor? Equipped with a hidden camera, RT has followed a couple of enthusiasts from a Russian youth organization into one of the largest supermarkets selling alcohol to find out whether or not they could successfully get their hands on a bottle of whiskey. The experiment did not work. The teenage girls were not sold any alcohol, they were asked for identification, and when they did not provide it, they were refused service.But each of them had no trouble getting a beer from a "kiosk," a small street shop.When confronted, the shop's saleswoman got defensive, but did not seem too fazed with breaking the law. "Unfortunately, practically every second kiosk or supermarket sells cigarettes and alcohol to adolescents. But we have to note positive tendencies, too," said Nashi youth movement activist Semyon Danilov.Russian parliamentarians have been trying to implement stringent punishment for those who sell alcohol and cigarettes to minors. But so far, there has been very little progress. "Parents are responsible for their children until they turn 18. And I think if we make parents pay a fine when their kids smoke or drink, it will raise the level of responsibility, because presently teenagers do all those things practically with their parents' permission," said State Duma Deputy Robert Schlegel."There are several roots to this problem," Bryun said. "Alcohol became an intrinsic part of Russian culture after World War II. We have a tradition to drink for any reason, and that's a huge problem we need to tackle."Fortunately, many youngsters themselves realize the scope of the problem."They want to relax, to feel grown up, but I don't think if you drink two or three bottles of beer, you'll automatically become an adult," said Nashi youth movement activist Karima Numanova.But as things stand, there is little consequence or punishment for shop owners willing to cash in on minors' health.
You can share this story on social media: