Fighting in Somalia rages on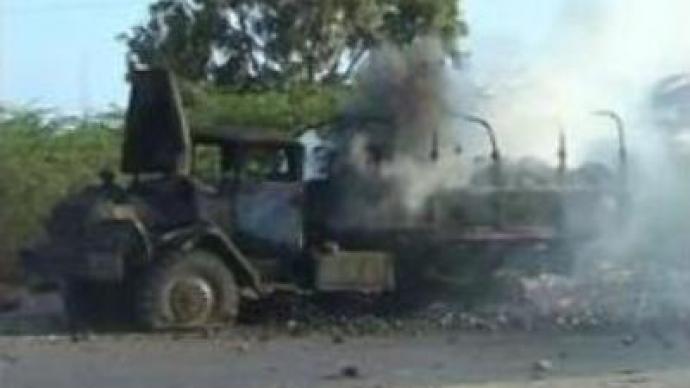 The Somalia's capital, Mogadishu has been hit by the fourth day of intense fighting. The country's main clan says they have reached a truce with Ethiopian troops and the fighting will soon end.
It is said to be the worst fighting Mogadishu has seen in 15 years.The troops launched their assault on Thursday. Their aim is to crush a rebel Islamist movement.Some say Al-Qaeda is behind the rebel forces.
"I don't believe that those insurgents from the Islamic Courts are directly related to Al-Qaeda but nevertheless, of course, we could suppose that there are certain common mutual ideological motives which could unite Al-Qaeda and the Islamic Courts movement,"
said Andrey Olitsky, an expert on Africa and the Middle East. The Council of Islamic Courts controlled Mogadishu for six months before being driven from power by Somali and Ethiopian troops. But during those months weapons and ammunition were allegedly stockpiled.The latest battles brought an end to a short-lived ceasefire between the Ethiopians and Somalia's main clan.
"Ethiopia is directly interested to resolve this conflict because it is the nearest neighbour of Somalia and besides there are other historical reasons which force Ethiopia to participate actively in those events,"
said Mr Olitsky. While it is believed some 200 militants have been killed by troops, civilians have suffered in much greater numbers.Hospitals are unable to cope with the demand, and that is with many of the injured trapped by the violence, unable to leave their homes to seek help.African Union peacekeepers, trying to help the government, have also faced attacks from insurgents, making progress difficult.The rebels say their aim is to fight on until Somalia becomes an Islamic emirate.
You can share this story on social media: