Farewell to furs for sake of animal rights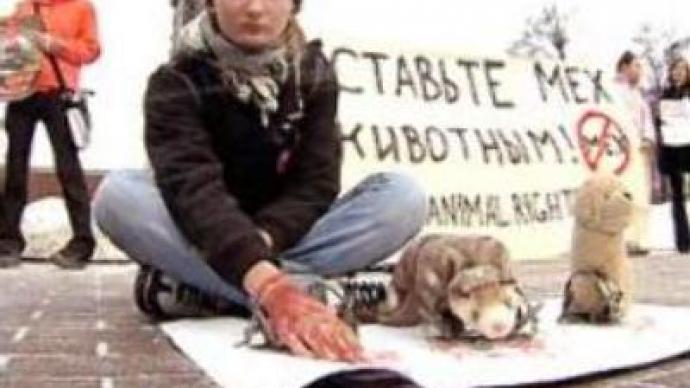 In Moscow, dozens of people have handed over their fur coats and hats to be buried, in protest against fur as fashion. The event was organised by the animal rights group, Vita.
Russia's fur industry is well-developed, with millions choosing to wear mink and sable during the winter. And only few of them sooner of later revise their views.
"Something has changed in me and now, when I touch fur, I feel like I'm touching a live animal,"
says Elena Nikolayeva, a Moscow-based photographer.
"But they are, in fact, dead animals who suffered before dying in a trap."
Vita is an animal rights movement, which organises anti-fur rallies in Moscow. Fur is Murder is their main slogan which, they say, serves to remind people that four MLN animals are killed in the country every year to satisfy the demand of the fur industry, a traditional one in Russia.Millions of men and women wear fur coats here. Since the times of tsars mink and sable garments have become a sort of luxury symbol, not just a means to keep warm. Helena Yarmak is a world-renowned fur designer. Her clientelle includes A-class celebrities, her stores are to be found on New York's 5th Avenue. Prices for Yarmak's coats range from 200 to 500,000 Euros. Elena believes that Russia just cannot do without fur.
"When it's just -5 [Celsius] outside, we can forget about furs," says Ms Yarmak. "But tomorrow it could be -30 and, I believe, the answer comes by itself. Not to mention that some regions of Russia survive by means of hunting. As it's the only way for them to earn money."
However, Vita activists hardly share such views. A recent rally in the very heart of Moscow featured protesters who had brought coats to bury them in a pet cemetery as a sign of protest.
"You can see dozens of coats we've received in this action,"
says Elena Maruyeva, VITA Director.
"Once Russians understand the real price of furs they will reject them."
Animal rights campaigners, though optimistic, admit that they are now in a minority in Russia. Meanwhile fur makers say the unseasonably warm winter has hampered their sales more than any rally could ever do.
You can share this story on social media: