Expats in Moscow turn to telephone hotline for help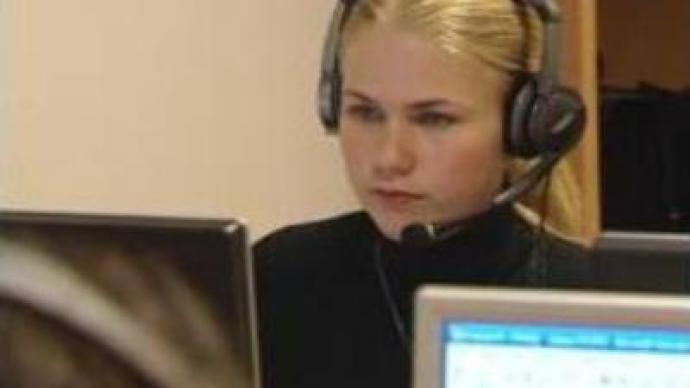 Expats struggling to get by in the Russian capital are now turning to a telephone hotline to help them with every day problems from booking plane tickets to even taking clothes to the laundry.
After school Kristina Polyanskaya, an 18-year old student from Moscow comes to the small office and changes her name to Anna Ivox – just as all of these girls do – and helps foreigners who live in the Russian capital to solve their everyday problems.
"I like it, I enjoy it, its amazing. It means to help people, it's a big responsibility. It's not to make a career, it's to make yourself,"
Kristina remarks. The Anna Ivox company was set up in 2003 and quickly gained popularity among Moscow's Western clientele. The hotline which works around-the-clock provides the so-called "lifestyle management" services. That is to help a person, unfamiliar with the Russian realities and language to get around.
"Many foreigners come to Moscow, their wives go shopping. We had one lady calling us in panic asking "I don't understand what she's telling me". We got on the phone and realised that all the shop assistant was saying to her is that she had a sale on. And everything was at 50% discount,"
Robin Reid, Anna Ivox manager remembers. They can do just about anything – from booking plane tickets and sorting out visa issues to cleaning your flat and taking clothes to a laundry. Though some requests are quite bizarre.
"A client wanting pink elephants. He had a dream one night and he called us in the morning asking where he could buy pink elephants in Moscow. We found a number of shops where he could buy stuffed pink elephants, gave him the list and delivered them to his wife's office,"
Robin Reid mentioned. Once Jean-Luc Parre – a French businessman living in Moscow – got seriously ill. He phoned Anna Ivox and the service brought him back to life.
"Help me, I don't know what to do. I can't move! She called a doctor very quickly. In 20 minutes he was in my apartment and gave me an injection and in 3 or 4 days I was OK,"
Jean-Luc Parre remembers. This has been just one case of Anna Ivox's help to foreigners living in Moscow. Every year more and more people use this service. In the last 12 months, this number has tripled.
You can share this story on social media: