Evacuation: tearing families apart, bringing people together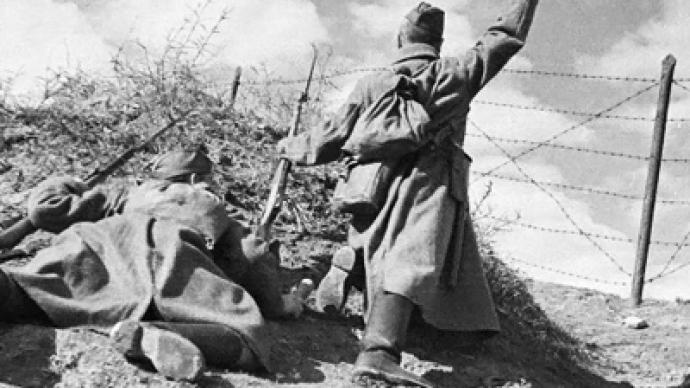 This year will mark the 66th anniversary of the end of WWII - but there are those who still vividly remember at what cost the victory was gained.
At 79, James Roffey sometimes comes to the street where he was born and where his family lived – until war broke out. Frightened and forced to evacuate to the countryside, James was just eight when his life was changed forever."You were sent to school every morning with the things you were told to take, with enough sandwiches and things to last you for the day, and that was it – only to get to school and be told, no evacuation today, and you were sent home again. And then one day they didn't say that. We went to school, and things were different. They started tying luggage labels on us," recollects the former evacuee.With hundreds of others, including a sister and brother, James walked from school to his local station. Their parents were not allowed to walk with them.Parents were issued with a list of things their children could take with them when they are evacuated. They all had a little suitcase, and in it they were only allowed to put a spare pair of house shoes, a change of underwear, a towel and a handkerchief, a toothbrush and a comb; they had to take their own mug and a plate and cutlery, and pajamas. With only that, a label tied around their necks and the ubiquitous gas mask, they made their journey into the unknown.Neither they, nor their parents, knew where they were going. They had a stamped postcard to send when they got there, to let their parents know they were safe.For James, that place was Pulborough, a village of around 2,000 people near the south coast. There, and in other "reception areas", villagers were legally required to take the children in – although some were far from welcoming."The man knocked on the door and a woman answered it, and it turned out to be yet another fierce woman. 'What do you want?' 'I've brought you two evacuees.' 'Well you can take them away again, I'm not having any evacuees,' and she slammed the door shut. The man knocked a second time, she opened the door, he put his foot in the door, pushed us in, said 'you've got to take them,' and jumped in his car and drove off," recalls James.It was an unhappy, but short-lived placement, and James ended up living happily in what used to be a sweet shop back then. His four-year evacuation became a positive experience, but that was not the case for everybody."Some of these people were not very nice to the children; some of them had their own agenda, which was just another person to work the farm, or work the garden, or in the bakery. And some of them were very cruel according to some of the evacuees," explained a documentary maker, Carol Gould.Often, it was such a wrench that the children could not stand it – many went home to London and accounted for one in every ten deaths during the Blitz. Schools were closed and they ran wild. Those who stayed were terribly homesick, but when they did get home they felt there was little to come back for."Most evacuees, if they're honest, would admit that they cried themselves to sleep every night. So did I. Shenley Road was so battered, there were gaps where bombs had fallen, but home was home. Still, after about four days, I wanted to be back in Pulborough," said James. The young man finished school in London, but never settled. After the war, he moved back to Pulborough as soon as he could.Evacuation changed not only the lives of the children, but also the communities they went to. In Pulborough, evacuees have erected a plaque in the local church, thanking the villagers for taking them in. It is true, the evacuation tore families apart, but it also brought people who would never ordinarily have met together. Inner city poverty rubbed shoulders with rural affluence, and vice versa.And the deep bonds forged from those times still remain today in the memories of those given kindness and shelter far from home in wartime.
You can share this story on social media: