Terminally-ill prisoner pleads for right to die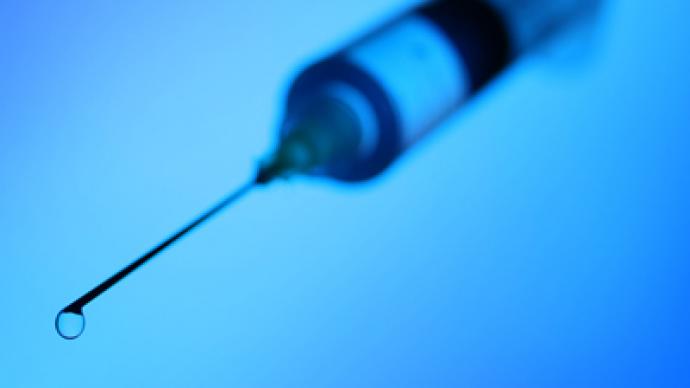 A seriously ill inmate has addressed several organizations in Russia requesting euthanasia. Despite the man suffering from a severe form of diabetes, he has been denied release from the prison or a change of sentence.
Gennady Uminsky, who was sentenced to 18 years in prison for murder, illegal arms trafficking and robbery, is serving his term in the Russian Ryazan region, spending most of his time on a hospital bed.In his written address Uminsky says that he fell ill while he was taking part in counter-terrorist operations in the Russian southern republic of Chechnya."I practically have no pancreas as a result of a severe injury," he aid. "I cannot move without help and my two crunches."His gangrenous legs hurt and doctors forecast he will not need his crutches for much longer – it will be time for a wheelchair."I can't live without painkillers," Gennady says. "I am always on drugs. If I didn't take them, I'd be unable to walk at all."Gennady Uminsky added that his illness has further deteriorated during the course of imprisonment, which started in 2007. His weight has dropped from 120 to 58 kilograms and his legs are now covered by gravitational ulcers. The man claims that all the facts have been confirmed by the medical commission in his jail."In prison I am doomed to die an awful death," said Uminsky. "Prison hospitals do not have endocrinology departments and methods to treat diabetes and its consequences."Uminsky said that as an Orthodox believer he cannot commit suicide and has therefore asked for euthanasia to stop his suffering. However euthanasia is prohibited in Russia under the law. "When I start asking who could kill, who could facilitate a suicide, nobody, not even the most zealous euthanasia supporters have ever said that they would do that themselves, because they would become murderers if they did so," said Yury Sharandin, the Head of the Committee on Constitutional Legislation. "Neither from the point of view of Russian legislation, nor from the point of view of international law, nor ethic norms, can euthanasia be justified."There is a huge debate on whether terminal patients have the right to end their own life to escape chronic pain.Those against euthanasia, and they are the majority, claim among other things that even hopeless cases can sometimes be miraculously healed. But a voice from behind bars, where miracles rarely happen, may change that perspective."If they know that the rest of their lives will be suffering, what's the reason to prevent them from doing that?" asks Lyudmila Alekseeva, a human rights activist. "Especially those sentenced to life in prison. I have got many letters from these people. They ask for death as life becomes unbearable, conditions there are awful. So why not?"Even though prison doctors have also supported Gennady's statement telling Moskovsky Komsomolets that his condition is indeed worsening, the judge repeatedly refused to let him out of jail. Gennady's mother Raisa said that since her son stopped walking two years ago, she has not had a chance to see him."The point is that the prison hospital does not have a room for visits and nobody wants to carry him on a stretcher into the building where there is such a room," she said.Raisa Uminskaya added that according to the law, Gennady's death should lead to his release from prison. She also claims that the case against her son was fabricated.Gennady is craving death. "What else do I need?" he asks. "I used to be a man. Now, look at me, I am not even half of a man."Gennady's mother can understand what has pushed her son to seek death, but she cannot reconcile herself with the reality of that decision."No, I will not allow him to die," she says. "I will not. If he dies, I'll die with him. What would I live for? Who for?"Gennady is now waiting, wishing, for death, be it natural or merciful.According to the region's Penal Service spokesperson Ekaterina Safonova, a court refused pledges by the prison's administration to let Uminsky out of jail so he could be properly treated three times, twice in 2009 and once in 2010. The reasons behind these dismissals have not been explained. According to Kommersant newspaper, 276 and 233 inmates died in Russian prisons due to heavy illnesses in 2008 and 2009 respectively.As a result of Dmitry Medvedev's initiative in December 2010, the Russian State Duma introduced amendments to the Criminal Code which stipulate that the sentence of an inmate may be altered if they suffer from a severe disease.
Simon Matskeplishvili, a physician and expert on euthanasia thinks it would not be possible in Russia for many years. "Someone can't make a mistake with such a thing as euthanasia.  And also there are different situations where people are subjected to this type of treatment. But there are also situations when someone is in a coma, conscious for many years or many months… This is not only a medical situation. This is a religious situation, because different religions are against it, it is a serious political issue because it is a ground for many political battles. And it is also a serious legal issue. Who will decide and who should make this little injection and who will turn off the machine?"
You can share this story on social media: