European NGOs 'train agents for intrastate conflicts'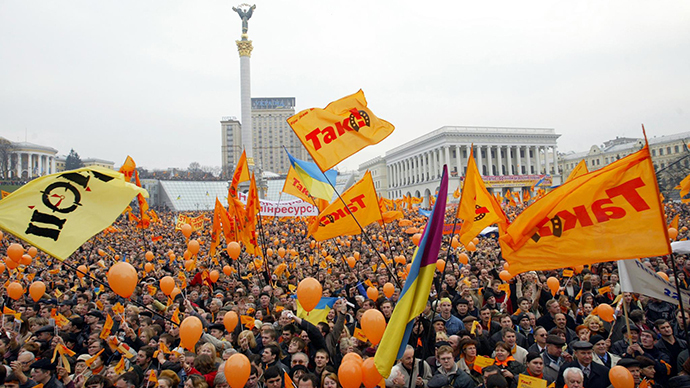 European NGOs train agents for participation in intrastate conflicts around the world, the CIS Antiterrorism Committee has revealed. There are over 2,000 schools across Europe preparing experts for conducting psychological and subversive operations.
Those institutions, affiliated with private military companies and security agencies, help enlist and train a broad range of saboteurs, according to the chief of CIS Antiterrorism Committee, Andrey Novikov. He was speaking at the conference of chiefs of security services and law enforcement agencies in Sochi attended by 79 delegations from 55 states and three international organizations.
"We noted the activity of NGOs ahead of well-known events in Kyrgyzstan and Ukraine," Interfax reported Novikov as saying. Novikov referred to the Orange Revolution in Ukraine in 2004 and the "Tulip Revolution" which ousted Kyrgyz President Askar Akayev in 2005.
Most often, future information warfare agents are people enlisted by relevant structures and who received special training. Enlisting can be hidden in quite innocent contexts.
"We are seeing the departure of CIS citizens from home countries or Europe, where they reside as refugees, or their parents were refugees in the 1990s, to study in different educational centers – mostly under the declared purpose of religious education," Novikov said.
Recently the committee has been marking an increase in "mercenary terrorism," when international terrorist organizations eye changing management models in whole regions, defragmentation of states, and creation of new orders.
"In this regard, the threat to the constitutional order in several regions significantly increases; the order may be destabilized when domestic problems are solved through military means," Novikov said.
The CIS is also concerned about militants who received hotspot training and now have returned home, but still continue "subversive activities," he said.
Such international militant bases, which also recruit and train mercenaries, are operating in Syria, Libya, Egypt, and across Pakistan and Afghanistan.
The CIS's concern has been also shared by some European states. Thus, the UK repeatedly expressed its worry after ministers were informed in February that around 250 British jihadists returned home after training and fighting in Syria. A total, it was said, of more than 400 Britons went to Syria to engage in militant activities.