Euro-freeze zone: Extreme frost blankets Europe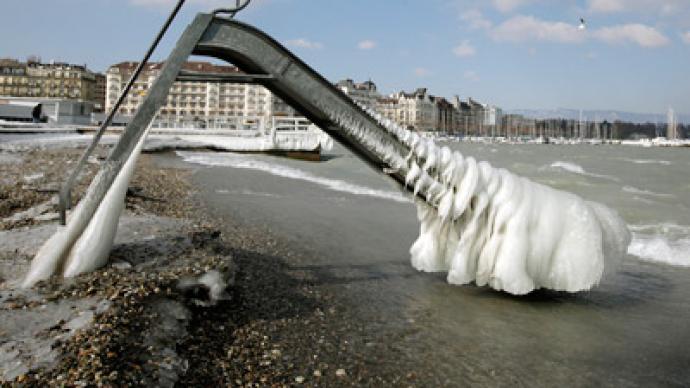 Thick ice and heavy snow have locked the entire European continent, already claiming the lives of nearly 500 people. And while Europeans are struggling to warm themselves, frigid temperatures are showing no signs of rising in coming weeks.
Weather forecasts predict the cold snap, which started in late January, to continue until mid-February. In some parts of Europe thermometers show temperatures lower than -39 Celsius. In the Czech Republic weather forecasters warned that night-time temperatures could reach as low as -40 Celsius in the mountains.
The freeze has forced counties along the Danube, from Austria to the Black Sea, to suspend river traffic across Europe's busiest waterway.
On Friday Hungary became the latest country to halt all shipping on the river.The 2,860km Danube, which flows through 10 countries, is vital for transport, power, irrigation, industry and fishing.
For the first time in decades, water in the Black Sea near its shores has frozen, the Kerch Strait that links the Azov Sea and the Black Sea is closed to navigation, blocking 125 vessels at anchorage.In the Romanian city of Buzau, which is about 100 kilometers (60 miles) northeast of Bucharest, about 23,000 people have been cut off from the outside world by snow. Layers of snow have literally trapped 38 villages located there. National broadcasters show pictures of houses buried in snow up to their rooftops. The country's authorities have sent rescue teams with food supplies and other goods for people. The death toll there has risen to 57 since the start of the cold spell.In Serbia some 70,000 people remain cut off by the thick snow that has covered the Balkans in the recent weeks.   The Serbian government has taken the decision to reduce power supplies to 2,000 companies. The state-run power company EPS has called on the public via a national television address to save electricity.Record low temperatures and heavy snow in Turkey make it difficult to stay warm for more than 140,000 earthquake survivors still living in tents or temporary homes.Italy faces its coldest temperatures in almost 30 years. In Rome forecasters predict as much as 30 centimeters (11 inches) in of snow over the weekend.In Paris the authorities have had to dust off the city's only icebreaker to chop up the frozen canals. It has not been used for years, but after temperatures fell to -15 degrees, the ice has locked the waterways.
You can share this story on social media: