EU defence leadership ventilate piracy in Africa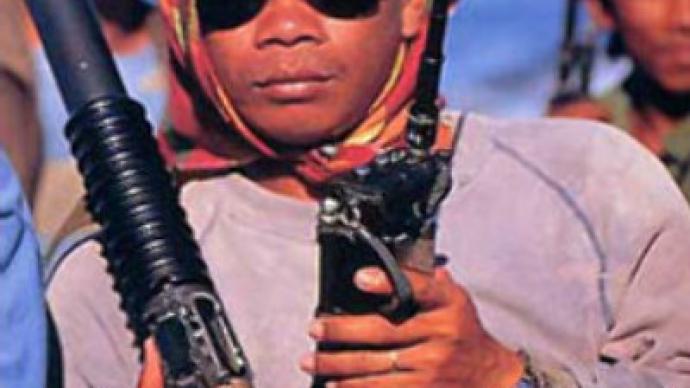 Somali pirates, Georgia and the ongoing presence of EU security forces in countries far beyond the union's borders. At the informal meeting of Europe's defence ministers, in the small Normandy town of Deauville, numerous subjects were touched on, but not
The French minister for defence, Herve Morin, had to apologise for keeping the assembled media waiting at an end of the day news conference – a debate had been raging, he said – heated words between delegates- adding though that debate was healthy.
One insider at the conference joked the difference of opinion must have been serious, however, for them to have carried on working through lunch.
Bearing in mind at the heart of this two-day conference is the idea of co-operation – pooling resources, strengthening the EU's security and defence capabilities together – it did not auger well. At a photo-call, it was all smiles as camera flashes popped, but groups soon formed, once the lense covers were back on – ministers deep in conversation with certain counterparts.
Morin declared Wednesday's event a success, insisting deals had been done, in principal.
Future prospects including, upgrading the European defence force's helicopters, building a new generation of minesweepers, developing a pan-European fleet of air transporters were effectively given the thumbs-up.
With Javier Solana, the head of the EU in attendance, fresh from Georgia having inspected the working arrangements of newly deployed monitors in the region – the Caucasus conflict was also high on the agenda. He was satisfied, he said, when questioned, that all sides would successfully stick to the French-brokered deal. He added there had been frank discussions on the subject at Wednesday's meeting, but wouldn't be drawn to comment further.
Another hot topic – piracy off the African coast – was addressed. With Russian warships currently attempting to rescue a Russian-Ukrainian crew off the Somali coast, from pirates, the assembly discussed how they might co-operate more closely with NATO to make the waters there safer.
But how will all these new missions, and projects be paid for, especially in light of the collapse of financial markets across Europe and the world? When asked by RT how they thought the public in the member nations would view this additional spending, Morin stated simply that greater co-operation in these schemes would lead to- "Tax payers' money being used more wisely – not being spent in a selfish, nationalistic way".
But there are likely to be more constraints on defence spending in the future as a result of the downturn in global economies – all at a time when the EU admits demands on its defence resources continue to grow. With European voters tightening their belts at home, they may expect their defence ministers to do the same with their spending on big budget projects, beyond their country's borders.
By Ann Smith, RT
You can share this story on social media: