EU agrees to fix environment target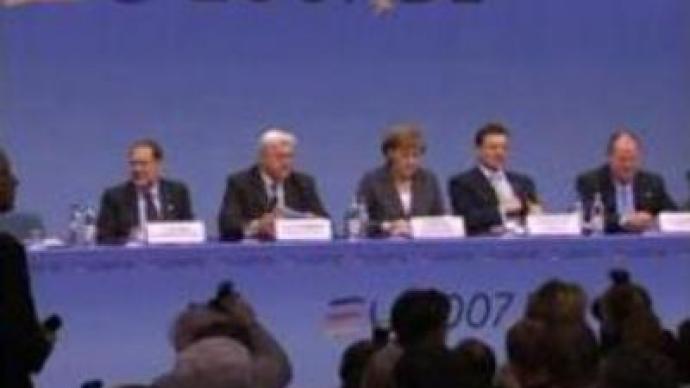 European leaders have agreed that by 2020 they will cut greenhouse gas emissions by 20% from 1990 levels. The commitment came at a climate change summit in Belgium on Thursday.
The European Union is on a new drive to lead the world fight against climate change. There were disagreements though, with leaders arguing about how to achieve targets for using renewable fuels like wind and solar power.
The German Chancellor, Angela Merkel, is keen for Europe to adopt new rules and to set a global standard. And she's hoping the measures will put pressure on countries such as the U.S. and Russia, to follow Europe's new greener drive.
"Our effort is to reach 20% from renewable energy sources as a European average. It's an important objective because renewable energies require innovation," said the German Chancellor, Angela Merkel.
Poorer EU countries such as Poland and Slovakia argued they simply can not afford to invest in costly alternatives to more polluting options such as coal and fuel and suggested a burden-sharing system.
"Poland has very limited renewable energy, about 5 %, overly ambitious targets for the next 10 to 20 years could, from Poland's point of view, as a developing country that needs to catch up with EU average, be impossible to meet," said Polish President Lech Kaczynski.
However, other EU countries insisted that tackling climate change came with duties.
"Of course some countries are saying it's quite difficult to achieve such high targets. But, if they want to carry the responsibility of climate change, then of course we have to set quite clear targets. It's our responsibility on climate change," noted Matti Vanhanen, Prime Minister of Finland.
In addition, Jose Manuel Barroso, European Commission President, Brussels, said that 20% is not planned to be a target for every country, at least in the beginning.
«20%, binding target, will be an overall target for the EU as a whole. It is not a specific target for each member state. The Commission will table specific proposals as early as the third quarter of this year. I've given the assurance of the colleagues and the council that we will do so in partnership with the member states, seeking the acceptance of each member state for this specific target,» said Mr Barroso.
Another bone of contention is nuclear power. The outgoing French president Jacques Chirac demands it be categorised as renewable, which is quite natural for France, as the country is 80% reliant on nuclear power. However, other countries say it is dangerous. Nuclear power may be considered as part of the plan according to which the EU wants to introduce most stringent safety measures.
It is also still unclear how much the 20% cuts will cost and how they will be enforced. Nevertheless, Mr Barroso emphasized that it is the cost of doing nothing that the EU and the rest of the world should consider.
You can share this story on social media: