Estonians move closer to removing Soviet war memorials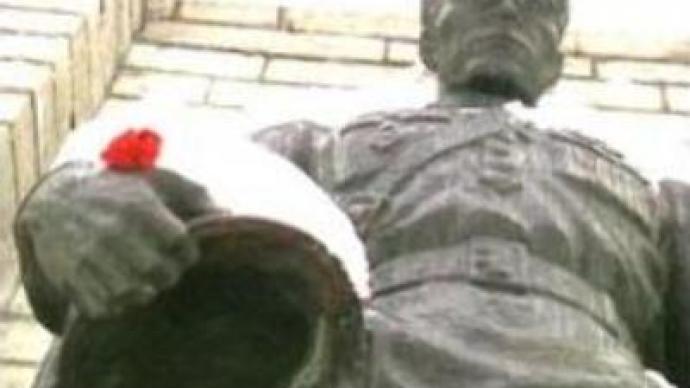 In the Baltic state of Estonia, a law which could let authorities remove war memorials to Russian soldiers and mass graves has passed a 2nd reading in the country's parliament.
One of the memorials is located right in the centre of the capital Tallinn and could soon be leveled.Protesters appeared at the parliament building long before the deputies started coming to discuss a bill that could let them remove the remains of Russian soldiers from the centre of Tallinn. "Don't take this sin upon your soul" was their slogan.
"The aim of this protest is to show the authorities that we are against such fascist laws that will allow our shrines to be pulled down. We would like to remind everybody that we live in a state with European values which among others include morality and conscience,"
one of the protesters, Dmitry Linter stressed.The controversial bill is called "On protection of war cemeteries". But in the case with Russian war memorials and mass graves Estonian authorities interpret the word "protection" differently.
"Russian soldiers are buried right under a trolleybus stop. People walk on the graves. It's wrong according to Christian laws, they should be buried elsewhere,"
Estonian MP Raivo Jaervi believes.But this is only part of the story. In the early 1990s the memorial was, in the words of the Estonians, reconstructed.
"Someone stole the plates with names of those buried here and the authorities found no other way out but to level the grave leaving only the monument. Now part of it is under a lawn, the rest in under a trolleybus stop,"
Mikhail Petrov, writer explains.The outcome of the second reading was easy to predict. The bill is up for a third reading which could deprive war veterans living in Tallinn of the place they come to each year to pay their respect to those killed during World War II.
You can share this story on social media: