Estonia war games: 'Proud' memory of Nazi collaboration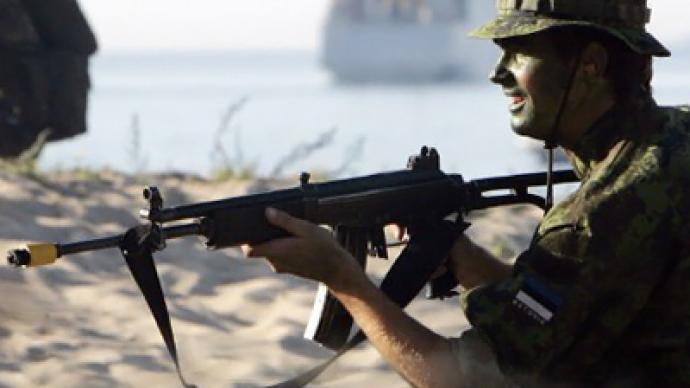 Organizers of Estonia's "Erna Retk" annual military event take special pride in it being one of the world's longest and most difficult military endurance competitions. But the games are also highly criticized for glorifying the nation's Nazi past.
Heavy boots, throwing knives, pistols and rifles. That's just part of the mandatory equipment list for the participants of the "Erna Retk," or "Erna Raid," a re-enactment of the events that took place in Estonia 70 years ago.The Erna saboteur group was an Estonian unit conscripted to a division organized within the Waffen SS in Finland in July 1941. Trained by Hitler's Abwehr, Germany's military intelligence, Estonian volunteers were to infiltrate and spy on Soviet territory to the rear of the Red Army. It was the Germans who gave the group its name – Erna – and two German liaison officers also joined the group.
AFP Photo / Raigo Pajula Saboteurs made a seaborne landing on the northern coast of Estonia and blew up the tracks on the Tallinn-Leningrad railroad. Two days later, the group was surrounded in a swamp and eliminated by the Red Army.Now those who take part in the competition essentially step into the shoes of those who worked with the Nazis. The event has been taking place for the past 17 years, after a group of enthusiasts reconstructed the raid in 1993 and organized the Erna Society. Ever since it has been holding the games, with support at the Estonian Defense Ministry, the country' General Staff of the Defense Forces and a number of major Estonian companies.Michael Jones, a British military historian and author of "Total War: From Stalingrad to Berlin," believes such games are a dangerous trend that could have serious consequences."The recent developments in Estonia show a dangerous and deeply shocking revival of Nazism," he said. "The participants court popularity by portraying themselves as anti-Russian; they are dangerous because in doing so they choose to glorify the Fascist ideology and its SS storm troopers, linking them to an Estonian quest for nationhood. In historical reality, Hitler's killers were not championing national rights but waging a pitiless and grotesquely cruel race war against Jews, Slavs and other 'undesirables.' Millions upon millions died as a result."
AFP Photo / Raigo Pajula An advance guard for Hitler's invasion of the Soviet Union, members of the Erna Group are now portrayed as national heroes. The organizers of the event say the group saved 2,000 Estonian refugees fleeing frothe Soviet Union. However Russia's Foreign Ministry has been saying for years that it sees the exercises as an attempt to glorify Estonia's collaboration with the Nazi Germany. Russians living in Estonia agree."All the recent politics in Estonia is aimed at rewriting the history of World War II to serve new ideas of the country's current leadership," said Andrey Andronov from the Estonian anti-fascist movement "Night Watch." "I think everyone understands that it is hero-ization of those who fought on the side of the Nazis and how they are trying to present it as a liberation of Europe from Communism. Now everyone who fought on the side of the Soviet Union is branded as an occupant and those who were on Wehrmacht's side as liberators. All the events praising the Wehrmacht veterans are supported by the authorities and many are funded from the state budget."This year's Erna Raid is the thinnest internationally in some years. Absent are the Canadians and Americans, but Finnish, Belgian, Danish, Lithuanian, Swiss and Georgian forces are still represented."As for Europe, I still don't understand why the things that are forbidden in many EU countries, including Germany, are openly done and allowed in Estonia, and no one in Europe pays any attention to it!", said Andronov.And although there are rumors this 18th Erna Raid is the last, it is arguably only because the route has exhausted its potential and all Estonian competitors know the terrain by heart. But the organizers say they'll definitely find a new place to keep the event alive.­Darya Pushkova, RT